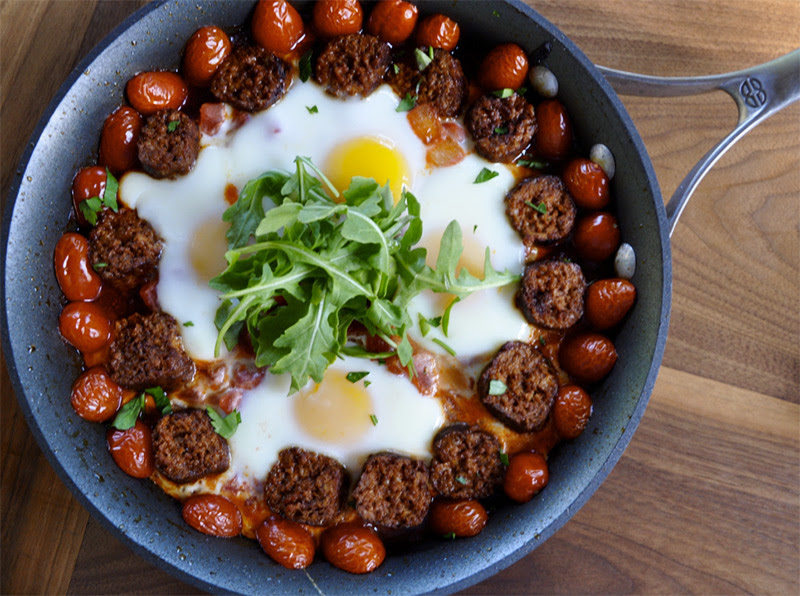 It's important to start your day off right, and to do so you'll need to steer clear of traditional breakfasts.
Most popular breakfast foods are filled with grains and sugar. Think about it, there's cereal, donuts, pastries, pancakes, waffles, and the list goes on. These breakfast foods are a fast-track to weight gain.
Instead of a breakfast that's high in sugar, I'd like to see you fill up on protein, good fats and veggies in the morning. Yes, protein, fat and veggies are wonderful for breakfast! Eating like this will help you achieve your health & fitness goals quicker and will give you loads of natural energy to carry you through your day.
This breakfast skillet has chorizo, eggs and arugula – but feel free to also experiment with other combinations of protein, fat and veggies in your breakfast skillet. Enjoy!
Courtesy of RealHealthyRecipes.com​
What You Need
Serves 4
2 links chorizo, casing removed
½ yellow onion, chopped
15-oz can diced tomatoes
12 cherry tomatoes, halved
4 large eggs
1 cup arugula
sea salt
black pepper
Instructions
1. Preheat the oven to 300 degrees F.
2. Place the chorizo links in a medium, oven-proof, skillet over low heat. Cook until all sides of the chorizo are browned. Periodically deglaze the pan with water. Allow the chorizo to cool, remove it from the skillet, and then slice each link into 10 pieces.
3. Sauté the onion in the leftover chorizo fat until tender, about 5 minutes. Add the can of tomatoes to the skillet. Arrange the halved cherry tomatoes and slices of chorizo around the edge of the skillet. Use a spoon to create four 2-inch wells in the tomato and egg mixture. Crack each egg into a ramekin and gently pour one egg into each well.
4. Place the skillet in the oven for 10-15 minutes, until the eggs are set. Top with fresh arugula and season with sea salt and black pepper. Enjoy!
Nutrition
One serving equals 289 calories, 20g fat, 8g carbohydrate, 2g fiber, and 17g protein.
I hope that you get a chance to give this recipe a try soon. Remember that I'm only a call or email away to assist you in all things health & fitness. And if you are not yet one of my prized clients then call or email me now to set up an interview for one of our programs – I'd love to help you achieve your best self!
For more recipes like this check out our recipe area here: Recipes
We are adding more recipes daily.

Please share my educational content with your friends and family and help us influence even more Silicon Valley Residents to reach their full potential >> Subscribe
Your friend & coach,Brien
Telephone: 650-654-4604
About Brien