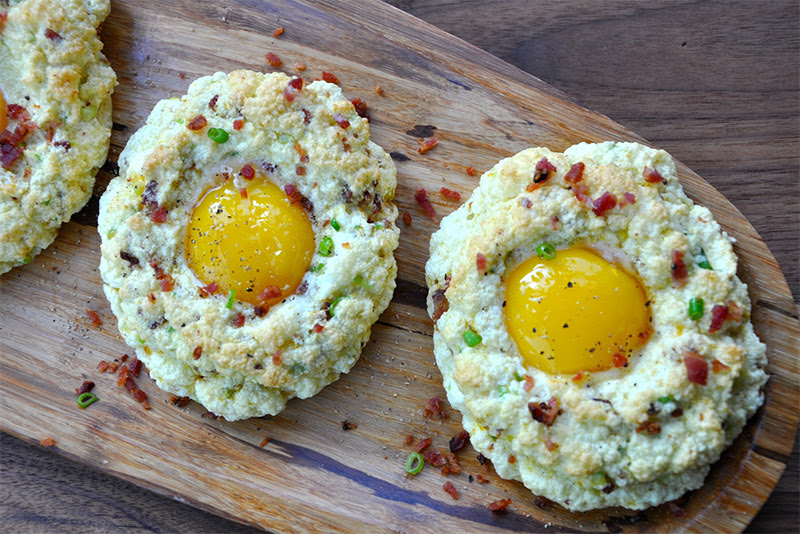 It's important to avoid traditional breakfast foods that are filled with carbs, grains and sugar, and to instead stick with protein and healthy fat recipes like the one for Eggs in Clouds below. This can be eaten for breakfast, lunch or dinner really. 
​
These flavor-rich, fluffed, and baked eggs are great for delivering big nutrition in a fun package. The nutritional yeast adds nutty, cheesy flavor, making it the substitute for dairy cheese.
Courtesy of RealHealthyRecipes.com​
What You Need
Serves 4
4 eggs
2 tablespoons nutritional yeast
¼ cup scallion, minced
¼ cup bacon, cooked and minced
sea salt
black pepper
Instructions
1. Preheat the oven to 450°F. Line a baking sheet with parchment paper and set aside.
2. Separate the egg whites from the egg yolks, placing the whites in the bowl of an electric mixer fitted with the whisk attachment and the yolks in individual ramekins, being careful not to break the yolks.
3. Whip the egg whites until stiff peaks form, about 3 minutes. Gently fold in the nutritional yeast, scallion, and bacon.
4. Spoon the egg white mixture onto the prepared baking sheet in 4 mounds. Use the spoon to create a well in the center of each mound, then bake for 3 minutes. Remove the pan from the oven and add a yolk to the center of each mound. Return to the oven for 3 minutes, until the yolk has set. Season with sea salt and black pepper.
Nutrition
One serving equals 101 calories, 7g fat, 229mg sodium, 1g carbs, 1g fiber, 9g protein
I hope that you get a chance to give this recipe a try soon! Remember that I'm only a call or email away to assist you in all things health & fitness.
And if you are not yet one of my prized clients then call or email me now to set up a free interview, so we can talk about the best plan for you to get healthy & fit– I'd love to help you achieve your best self!
For more recipes like this check out our recipe area here: Recipes
We are adding more recipes daily.

Please share my educational content with your friends and family and help us influence even more Silicon Valley Residents to reach their full potential >> Subscribe
Your friend & coach,Brien
Telephone: 650-654-4604
About Brien