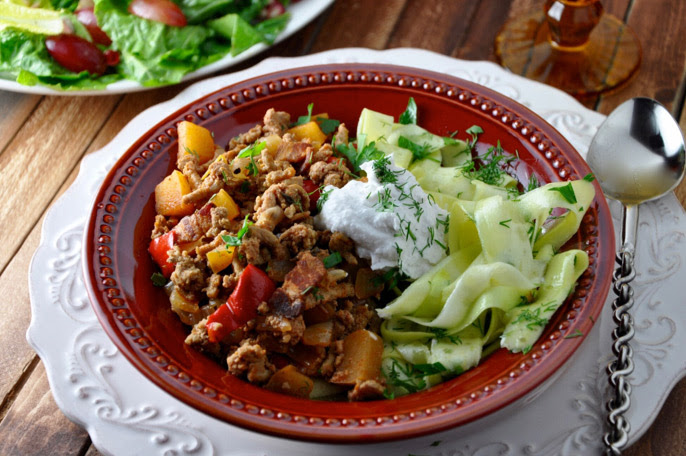 A light dinner that's centered around protein, high quality fats and veggies is the perfect way to end your day. Today I have an innovative recipe that delivers big in both flavor and fitness.
This Fit Turkey Goulash is a fun way to serve up wholesome ingredients that the whole family will enjoy. Making smart substitutions, like using zucchini noodles instead of traditional pasta noodles, is a great way to eat meals that help propel you towards your fitness goal. Lucky for you this wholesome meal is packed with flavor!
Courtesy of RealHealthyRecipes.com​​
What You Need
Serves 8
3 strips bacon, chopped (free of hormones, anti-biotics and nitrates)
2 pounds organic ground turkey
Pink himalayan salt and black pepper
2 apples, seeded and diced
2 yellow onions, diced
1 red bell pepper, seeded and diced
2 tablespoons fresh thyme
1 bay leaf
3 tablespoons sweet paprika
1 tablespoon ground cumin
juice of 1 lemon
2½ cups broth (chicken or bone)
5 medium zucchinis
1 tablespoon olive oil
2 tablespoons fresh parsley, minced
2 tablespoons fresh dill, chopped
*Low or whole-fat, plain organic Greek yogurt (optional)
Instructions
1. Place a Dutch oven over medium-high heat. Add the bacon and cook until crispy. Transfer the bacon to a plate with a slotted spoon.
2. Add the ground turkey to the pot in the bacon drippings, cook, breaking it into smaller pieces. Season with salt and pepper.
3. Add the apples, onions, bell pepper, thyme and bay leaf. Cook until the onions soften, about 5 minutes. Mix in the paprika and cumin.
4. Return the bacon back to the pot, along with the lemon juice and broth. Bring to a boil, reduce the heat to a simmer, and cook until the goulash thickens.
5. Use a veggie peeler to peel the zucchini into flat noodles in a large bowl. Toss with the olive oil and season with sea salt. Mix in the parsley and dill.
6. Serve the goulash warm over zucchini noodles with a dollop of Greek yogurt. Enjoy!
Nutrition
One serving equals: 360 calories, 18g fat, 19g carbohydrate, 5g fiber, and 37g protein.
And if you are not yet one of my prized clients apply as soon as you can to schedule an interview for our new 6 week challenge starting soon!
APPLY HERE>>> NEW 6-Week Total Body SUMMER Transformation
I'd love to help you achieve your best self!
For more recipes like this check out our recipe area here: Recipes
We are adding more recipes daily.

Please share my educational content with your friends and family and help us influence even more Silicon Valley Residents to reach their full potential >> Subscribe
Your friend & coach,Brien
Telephone: 650-654-4604
About Brien