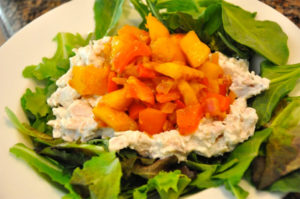 This summer salad is a refreshing way to serve chicken. Tender mango chutney, creamy Greek yogurt and fresh, crunchy greens make this one tasty meal. While typically creamy dishes contain loads of fat and extra calories, this one stays healthy with the use of wholefat, plain Greek yogurt. Enjoy!
Courtesy of RealHealthyRecipes.com
What you need
Serves 5
1 teaspoon olive oil
2 cloves garlic, minced
1 inch ginger root, minced
1 small red onion, chopped
1 small red bell pepper, chopped
2 ripe mangoes, chopped
Juice from 2 limes
1 Tablespoon curry powder
1 teaspoon ground cinnamon
Dash of nutmeg
Dash of red pepper flakes
1 ½ cups whole-fat, plain Greek yogurt (use coconut yogurt if in 6 week challenge)
1 Tablespoon Dijon mustard
Dash of salt and pepper
3 cups cooked chicken breast, chopped
4 cups salad greens
Instructions
In a large skillet, heat oil over medium heat. Add garlic and ginger root and sauté for a minute.
Add the onion and bell peppers and sauté for a few minutes.
Add the mango and spices. Continue to sauté for another 5 minutes, until everything has softened.
Turn the heat down to low, cover and simmer for another 10 minutes. Remove from heat. Chill for 20 minutes in the refrigerator.
Combine the yogurt, mustard, salt and pepper together in a small bowl. Place the chopped chicken in a medium sized bowl and mix in the yogurt blend.
Prepare each plate with a pile of greens topped with a scoop of chicken and a spoonful of chutney.
Motivate your friends, family and co-workers! Use the "refer a friend" link below to forward this newsletter to your friends, family, and coworkers.
Please let me know if you have any questions!
Your friend and coach,
Brien Shamp
650-654-4604
​info@brienshamp-com.wp3.staging-site.io​