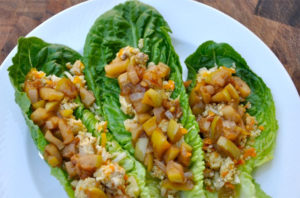 Reducing the starchy carbs in your dinner is a proven way to stimulate weight loss. This means making changes like using lettuce leaves instead of tortillas and swapping out rice for shredded cauliflower.
Dinners like these Turkey Lettuce Wraps will help you quickly reach your fat loss goal. The shredded cauliflower, rice and onions in this recipe make an amazing substitution for grain-based pilaf. With the addition of organic ground turkey and lettuce this comfort-food tasting meal is actually quite lean and green.
Courtesy of RealHealthyRecipes.com
What you need
Serves 6
12 large Romaine lettuce leaves
For the Cinnamon Ground Turkey Rice:
1 Tablespoon olive oil
2 carrots, shredded
1/2 yellow onion, minced
dash of salt
1/2 teaspoon ground cinnamon
1 lb ground, organic turkey
1 head cauliflower, shredded (To shred: cut into florets and run through a food processor with the grating attachment)
1/3 cup golden raisins *Avoid on 6 week challenge
1 cup chicken broth
dash of freshly ground pepper
For the Quick Apple Chutney:
1 Tablespoon coconut oil
1/2 yellow onion, minced
2 green apples, chopped
1/4 teaspoon ground cinnamon
1 Tablespoon coconut crystals
1/2 cup apple juice or apple cider
sprinkle of sea salt
Instructions
For the Cinnamon Ground Turkey Rice: In a large skillet place the olive oil over medium heat. Add the carrots and onions, cook for 3 minutes, until soft. Add salt, cinnamon and ground turkey. Cook until the meat is no longer pink. Add the head of shredded cauliflower, raisins, broth and pepper. Cook for another 4 minutes, until heated through.
For the Quick Apple Chutney: In a medium skillet place the coconut oil over medium heat. Add the onion and apples. Cover and cook for 10 minutes. Uncover, add the cinnamon, coconut crystals, apple juice and salt. Bring to a boil, then simmer for another 4 minutes until apples are tender.
Assemble Your Lettuce Wraps: Spread a generous spoonful of the turkey mixture along the center of a Romaine lettuce leaf, top with a spoonful of chutney. Enjoy
Nutrition
One serving equals: 248 calories, 9g fat, 156mg sodium, 25g carbohydrate, 5g fiber, and 17g protein
Motivate your friends, family and co-workers! Use the "refer a friend" link below to forward this newsletter to your friends, family, and coworkers.
Please let me know if you have any questions!
Your friend and coach,
Brien Shamp
650-654-4604
​info@brienshamp-com.wp3.staging-site.io​