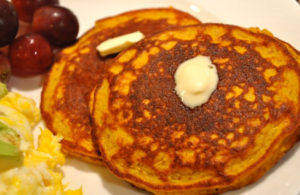 Here it is, my favorite recipe for fall! Enjoy these tasty pumpkin pancakes without guilt. Made with almond, hazzlenut or flax meal and packed with protein from eggs, these pancakes are sure to satisfy without shortchanging your results.
What you need
Serves 5
4 large eggs
¾ cup egg whites
1 (15oz) can of pumpkin
1 cup almond meal (try hazzlenut meal or flax meal)
1 teaspoon baking powder
1 teaspoon vanilla extract
dash of nutmeg
1 teaspoon ground cinnamon
cooking spray
Instructions
In a medium bowl, mix all of the ingredients together.
Heat pancake griddle to medium heat and coat with cooking spray.
Cook each side about 3 minutes until brown, then flip and cook remaining side. Enjoy!
Nutrition
One serving equals 255 calories, 15g fat, 112mg sodium, 11g carbohydrate, 5g fiber, and 19g protein.
Motivate your friends, family and co-workers! Use the "refer a friend" link below to forward this newsletter to your friends, family, and coworkers.
Please let me know if you have any questions!
Your friend and coach,
Brien Shamp
650-654-4604
​info@brienshamp.com​