With all of the wildfire smoke and fires for the past month, it is hard not to think of lung health support.

Many who had shortness of breath and chest tightness due to COVID are experiencing symptoms again with the increase in poor air quality.
Sadly, wildfire season is getting longer and more frequent, and with no rain on the horizon breathing issues and lung stress is going to get more serious. Many are in need of lung and detox support. Gratefully, my Nutrition Colleague, Beth Gillespie just shared a new product from Designs for Help called called Pulmonary Revive <<< Click here for more info.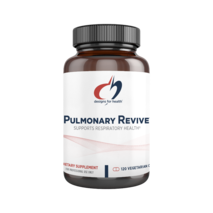 Pulmonary Revive features highly potent ingredients to support healthy lung function, a healthy immune response, and normal inflammatory response to address the pathophysiology of inflammation in the lungs. This can also be helpful to support respiratory allergies. Each serving contains:
full spectrum Cordyceps mushroom blend (700mg)
600mg of N-Acetyl Cysteine
Ginger standardized to contain 5% gingerols (400mg)
Boswellia standardized to contain 70% boswellic acid (400mg)
400mg of Bromelain

Here is the link for the product: https://brienshamp.ehealthpro.com/products/pulmonary-revive-120-capsules

Use coupon code FIT10 for the discount.

WILDFIRE SMOKE PROTECTION PROTOCOL

Beth Gillespie
Health Educator and Nutrition Consultant
Designs For Health
My top supplement picks to decrease oxidative stress and inflammation caused by wildfire smoke:
Pulmonary Revive with NAC and Cordyceps: two capsules twice daily. NAC still remains my top pick for overall lung health and detoxification. NAC protects against most of the compounds found in wildfire smoke! It acts as an antioxidant, anti-inflammatory, a mucolytic, and it increases glutathione levels. Cordyceps is also a powerhouse with antioxidant, anti-inflammatory, and immune support properties, often referred to as a lung tonic in TCM.
BroccoProtect 1 capsule twice daily. BroccoProtect is a synergistic blend of specially cultivated broccoli seed extract and broccoli sprout concentrate, providing sulforaphane glucosinolate and myrosinase enzyme for maximal conversion to broccoli's beneficial compound, sulforaphane. 
I learned in a Wildfire Smoke webinar that sulforaphane has been shown to increase levels of enzymes important in mitigating lung damage from ozone and other air pollutants: glutathione reductase (GR), glutathione S-transferase (GST), and gamma-glutamylcysteine synthetase (GSC).
Stellar C:  1 capsule 4x daily OR Liposomal Vitamin C  ½ tsp 4x daily.  Often underappreciated, Vitamin C is critical to immune system health, detoxification and has been found to decrease airway irritation. 
I also recommend adding our Liposomal Glutathione to this protocol to ensure optimal glutathione levels, especially if you know that you or your patient has SNPs related to the glutathione pathways.  Oxidative stress uses up glutathione!!
If there is excess lung inflammation, add SPM Supreme (2 softgels daily). SPM Supreme is a combination of three highly potent "specialized pro-resolving mediators" designed to "resolve" the initial steps in the natural inflammatory process. 


Let me know if you have any questions.
Coach Brien