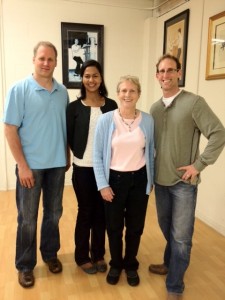 Happy Friday!
Last Wednesday I picked the winner of the 12 Week Transformation Challenge. See the top three winners on the right. Congratulations to David Cunningham, Hope Suchsland and Miriam Lima
If you are unfamiliar with the challenge here are the details: 12 Week Transformation Challenge
In short, the 84 day challenge  is not a weight loss contest, but a fat loss and lifestyle challenge.  Winners were chosen based on greatest body fat loss and body composition improvement: judged based on body composition numbers (weight, body fat, lean body mass) and visual appearance (before and after photographs from 3 angles) and a transformation essay (each component counts for 1/3 of the score.
32 of my personal training clients and Boot Campers entered the challenge for the $1000 prize, and of course to stay on track to achieve their health & fitness goals for 2012.
The winner of the challenge was Miriam Lima. She had a great physical transformation as you can see from the photo on the right.
Miriam lost 8.3 pounds, but more importantly lost 5.2 % body fat.
Miriam also had a great lifestyle transformation and that is why she was selected the winner. She is leaner, more aware and a positive influence on her family and community.
Here is Miriam's winning essay: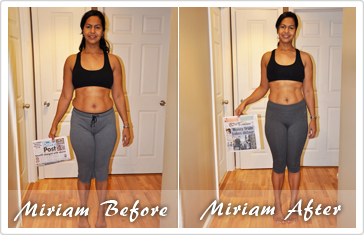 "I always thought I was living a healthy lifestyle, until I met Brien, personal trainer and life coach at the boot camp in Belmont. Most of the time I was trying to eat healthy and avoiding certain types of food that I believed were not the best for my body. However, gradually I was adding more fat, lacking energy, tired, and feeling unhappy about my body. A little more than a year ago, I decided to join the boot camp in Belmont.  The boot camp is not just an exercise program, it's a holistic approach that inspires you to achieve a healthier lifestyle with different types of program to fit your needs. One of the programs that I have decided to join recently was the 12 Week Challenge; It was one of the best transformational decision I have made to become healthier.
The first few weeks of the 12 Week Challenge program were the hardest ones. I was constantly craving sugar: I did not want to give up on sugar. I was willing to give up on meat, dairy, grain, but not on candies, nor certain packaged foods that were loaded in sugar, neither the sugar I put in my drinks. Sugar was more than tasting good, it was associated with my childhood memories. I remember watching my aunt decorating wedding and birthday cakes, transforming all that sugar into beautiful work of art. I loved to scrape the batter and indulge myself with the leftover icing. I would feel so "good" afterwards… Recently I have come to terms with the realization that sugar was the drug of choice I used to deal with my anxieties.
During the program, instead of turning to sugar, I began to break the habit one day at a time by becoming mindful about my feelings behind the cravings. I would ask myself the questions: What do I need right now? What am I really hungry for at this moment, food or love? Am I anxious, afraid, sad, hurt? Do I need to connect with others? Reflecting on the answers would help me to feed my real hunger and not numb myself from reality. In addition to consistently attending boot camp, as alternatives to giving into my cravings, I also included other healthy activities in my daily life, such as reading a good book, going for a walk, talking with others, deep breathing, working on projects, etc. As suggested by Brien, I gradually added more protein, low acid fruit, and more vegetables into my diet, and significantly decreased starchy food, dairy products, high glycemic index food and finally… sugar.
Researches indicate that  it takes about six weeks to develop a habit. I agree. Half way through the program, as I incorporated these activities and modifications in my diet, they began to reflect on my weight and my cravings for sugar subsided.
Keeping the bad stuff out and adding the good stuff in was helpful, but not enough. Having outside support system was crucial to help me change my old unhealthy patterns. Brien's support and education through his emails and tips also helped me to keep focused on my goals. I felt as if Brien was on my shoulder guiding me on how to live a better and healthier life. One of Brien's most important piece of advices was to "never go hungry and never get full". His suggestion was to be eating every 2 to 4 hours. I noticed that whenever I skipped a meal or went hungry, I would crave starchy food and sugar. So I decided to eat snacks more often, especially pears or apple. The results were amazing, I felt more in control of my cravings. Besides Brien's advices, daily prayer and meditation helped me to maintain strength to be consistent, persevere and gain control over my impulses.
One of the biggest rewards of this program, besides working on becoming a healthier woman, was to watch my family being positively affected by my choices. The more I introduced nutrition education from Brien's teachings, and added more healthy meals to my family, the more my husband shed some pounds, and the more my 16 and 13 year old boys began choosing more salads, vegetables, fruit, smoothies, protein… and becoming more conscious about their own health choices. That was gratifying!
Again, congratulations to the winners and all that completed the 12 week process.
If you would like to discuss your goals and a game plan to achieve them, contact me today.
Your friend & coach,
Brien
**************************************************************************
Join me on Facebook (click here) for answers to all your health, fitness, and nutrition questions.
Please Write Me a Review on Yelp: Belmont Boot Camp, Burlingame Boot Camp, Redwood City Boot Camp, Personal Training & Nutrition
**************************************************************************
I work with those who desire weight & fat loss, pain reduction and stress management through comprehensive exercise, nutrition & lifestyle strategies. My dream  is to coach those who seek my help live their passions with happiness & love.
Thank you for allowing me to help you.
**************************************************************************
Check our life-changing fitness and nutrition programs to help you live your healthiest, fittest, and most energetic life ever!
Brien Shamp BS CSCS CMT CHEK NLC II
Personal Trainer, Nutrition and Lifestyle Coach
www.BrienShamp.com
www.Shamp'sBootCamps.com
www.10 DayDetox.com
www.21DayDetox.com
650-654-4604