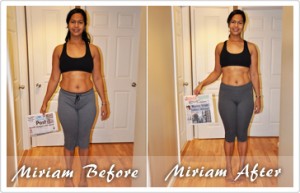 We finally picked the winner of the 75 Day Holiday Transformation Challenge and man was it tough.
Lots of  awesome transformations and it was very, very close for the top two transformations.
If you are unfamiliar with the challenge here are the details: 75 Day Holiday Transformation Challenge
In short, the 75 day challenge is not a weight loss contest, but a fat loss and lifestyle challenge. Winners were chosen based on greatest body fat loss and body composition improvement: judged based on body composition numbers (weight, body fat, lean body mass) and visual appearance (before and after photographs from 3 angles),  a transformation essay and Facebook Likes (each component counts for 1/4 of the score.
45 of my personal training clients and Boot Campers entered the challenge for the $1000 prize, and of course to stay on track to achieve their health & fitness goals for 2012.
Here are the Top 7 Finalists ( in no particular order):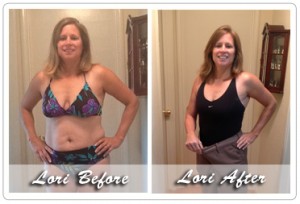 Lisa
Dolores
Lori
Janet J.

Sharon
Maureen
Shelly
And the winner is….
Janet J!!!
Janet will receive a check from me for $1000!

Janet had a great physical transformation as you can see from the photo on the right.
She lost 16.6 pounds, but more importantly lost 8.3 % body fat.
Janet also had a great lifestyle transformation as you can read in her essay below and she got the most Facebook Likes.
Here are the rest of the finalists in order and the prizes they will receive:
2nd Place: Sharon- Three Months of Belmont Boot Camp from me
3rd Place: Shelly- 10 Day Detox from me
4th Place: Lisa – Hypnotherapy Session From Shannon Doyle
5th Place: Lori D.- Minor Auto Service from A + Japanese  Auto  Repair, Inc. in San Carlos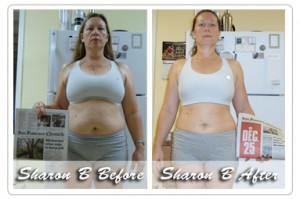 6th Place: Dolores- Skin Care Treatment from Darlene Shamp at Dr. Michelle Fiori's office in San Carlos
7th Place- Maureen- 2 Organic Spray Tans from Coco Beach Organic Spray Tanning in San Carlos
Everyone who took on this challenge is a winner. There were great transformations beyond the finalists. The challengers committed themselves  during the most challenging months (Oct-Dec). No easy task.
I am proud of all of the challengers for their commitment and grateful that they are out there spreading the word of health & fitness to those who also need change.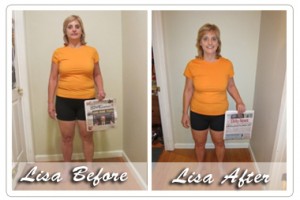 Here is Janet's winning essay:
"It's 2011 and I've signed up for the 75 Day Boot Camp Challenge.   Brien has given me so many tools of knowledge on diet and exercise, it should be a piece of cake.    (Cake!   Yum, I love cake!  I LOVE sugar…..I'll have a slice and concentrate tomorrow.).  Yikes, it's somehow day 70!   I need a 5-Day Detox, quick!    I have failed myself………..next year, right?
January 2012  swoops in and I'm starting with a new strategy…… visualizing where I want to be with my health.   Things go well.  I'm faithful about going to boot camp, eating protein, good fats, and vegetables often.   The sugar devil is on my shoulder, tempting me daily, reminding me how euphoric I feel ingesting wonderful sweets.  The sugar angel, however, counters with the "thereafter" effects:  the stomach bloat, the sugar crash, and, yes, the evil constipation,  all of which drain my energy.  I continue the battle eagerly.
Summer is here!  I feel great!  My weight has decreased by ten pounds!  My body has changed, thanks to those "burpees"!  This is the first summer in years that I am comfortable in a swim suit!.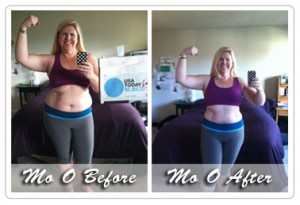 Now the 2012  75-Day Challenge is approaching.  I'm gorging on all my comfort foods: cinnamon rolls, popcorn, candy, French bread and butter.   Ahhhhh, what am I doing?!   It's self-sabotage at its best.
I've weighed in and was worried about how high my body fat had become.   The challenge is on!  I need to do well.  Preparing ahead of time all the foods I want to eat is key.  Cooking meals for the family becomes "The Replacement Game" for me.  Shredded zucchini becomes my pasta, almond milk smoothies become my ice cream.  It has truly challenged my brain.  I am now thinking about. "how can I make food work for ME?"
Packing my breakfast, lunch, and snacks and having them readily available for grazing every two to three hours keeps me from grabbing a bad choice out of convenience.  Eating every two to three hours prevents me from getting into the "I'm starving!  Shove-anything-into-my-mouth!" syndrome.
Getting Brien's emails are, of course, great.   They deliver a dose of encouragement, food ideas, and the genuine idea that he WANTS his clients to feel their best.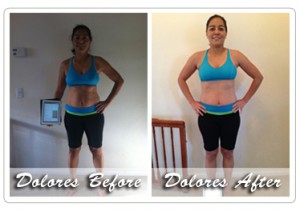 What I've learned the most through this challenge is being aware of how food affects me.  Sugar is really my own worst enemy.   As much as I love it, I try to limit myself with it.  I've created many new comfort foods for myself: Haystacks, raw cashews, and almonds.  The cashews were a release from my procrastination and stress;  the haystacks killed my sweet tooth;, and the raw almonds and sliced pears were my fix for emotional eating.  Lastly, eating healthy foods has given me great energy.
Overall, the 75-Day Challenge has made me want to continue to live a healthier lifestyle through my food choices and exercise.  Although I still have goals to reach, I'm confident that I will obtain them through the skills I've learned and committed to. " Janet J.
Again, congratulations to the winners and all that completed the 75 Day process.
Keep on the look out for more essay's on how the challengers transformed in only 75 days.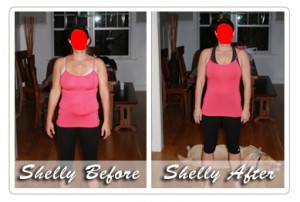 You can do it also!
If you would like to discuss your goals and a game plan to achieve them, contact me today.
Your friend & coach,
Brien
Write a Yelp Review: Belmont Boot Camp, Burlingame Boot Camp, San Carlos Boot Camp, San Mateo Boot Camp, Shamp's Studio Boot Camp