Credit for this recipe goes to www.thecharliefoundation.org
This recipe makes 6 popsicles (using Zipsicle bags)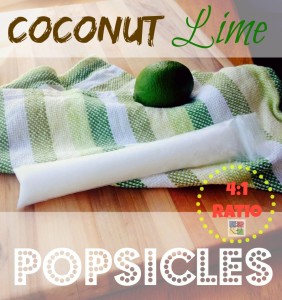 INGREDIENTS:
500 gm Trader Joe's Unsweetened Coconut Milk Beverage, room temperature (in a box, not a can)
25 gm fresh lime juice
20 gm shredded coconut, unsweetened (use "fine" shred if possible)
15 gm Truvia
7.5gm coconut oil, melted
DIRECTIONS:
Make sure the coconut milk beverage is room temperature to prevent the coconut oil from solidifing when mixed with the coconut milk.
Combine all of the ingredients. Stir very well to make sure the Truvia has dissolved and the coconut oil and shredded coconut are well suspended in the mixture. You may use a blender!
Pour the mixture into six Zipsicle bags. Make sure you do not overfill.
Close each bag securly and place them in the freezer. It is better to lay them flat rather than stand them upright to prevent the coconut from sinking to the bottom.
Allow the popsicles to freeze completly and enjoy on a hot summer day!
Nutrition Analysis (per popsicle):52 calories, 0.43 gm Protein, 5.19 gm Fat, 0.85 gm Carbohydrate
Your friend & coach,
Brien
About Brien
Join Brien on Facebook
Write a Google+ Review
Write a Yelp Review: Belmont Boot Camp, Burlingame Boot Camp, San Carlos Boot Camp, Shamp's Studio Boot Camp
Disclaimer