Looking for a cool salad to fill you up this summer? Here's a delicious recipe from the folks over at Prograde Nutrition for you.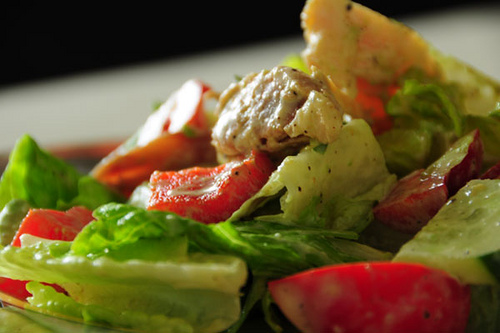 INGREDIENTS:
1 medium ripe avocado, peeled, pitted and sliced
1 tsp. lemon juice
1 bag (10 oz.) torn romaine lettuce (about 10 cups)
2 cups shredded cooked chicken
1 medium tomato, cut into wedges
1 small cucumber, sliced
1/4 of a medium vidalia or walla walla onion, chopped
1/2 cup red pepper
1/2 cup olive oil + apple cider vinegar + garlic
1/4 cup parmesan cheese
DIRECTIONS:
Toss avocados with lemon juice in large salad bowl.
Add lettuce, chicken, tomatoes, cucumbers and onions; mix lightly.
Add dressing; toss to coat.
Sprinkle with parmesan cheese.
Serve immediately.
Your friend & coach,
Brien
About Brien
Join Brien on Facebook
Write a Google+ Review
Write a Yelp Review: Belmont Boot Camp, Burlingame Boot Camp, San Carlos Boot Camp, Shamp's Studio Boot Camp
Disclaimer