For those of you doing the 10 Day Detox (20% OFF NOW) or the Little Black Dress Project, this recipe is approved!
We all know that vegetables are good for us, and that we should eat more fresh veggies in order to increase the fiber and vitamin content of our diets. But, the truth is that most veggie side dishes don't taste good enough to entice the whole family to dive in. This recipe is the answer. Broccoli and cauliflower are roasted in an outrageously tasty way that's simple, quick and full of nutrition.
Serve this delicious veggie side dish with a piece of high quality meat for a well-balanced, fitness approved meal.
Makes: 4 Servings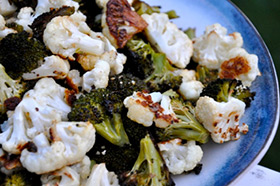 INGREDIENTS:
1 bunch broccoli
1 bunch cauliflower
1 Tablespoon olive oil
dash of sea salt
dash of pepper
4 garlic cloves, minced
juice from 1 lemon
DRECTIONS:
Preheat your oven to 425 degrees F.
Lightly grease a large baking sheet with olive oil.
Wash the broccoli and cauliflower heads and then pat dry. It's important to dry thoroughly so that it will roast properly.
Cut broccoli and cauliflower heads into small florets.
In a medium bowl combine the florets, olive oil, salt, pepper and garlic cloves. Toss until well combined.
Spread broccoli and cauliflower mixture over the prepared baking sheet evenly.
Roast for 25 minutes, stirring halfway through.
Remove from oven once the florets are tender with crispy bottoms.
Drizzle the lemon juice over the cooked florets and serve immediately.
Nutritional Analysis: 160 calories, 4g fat, 98mg sodium, 8g carbohydrate, 4g fiber, and 4g protein
More of my recommended recipes can be found here>>> Recipes
We are adding more recipes daily.
I hope that you get a chance to give this recipe a try soon. Remember that I'm only a call or email away to assist you in all things health & fitness. And if you are not yet one of my prized clients apply as soon as you can to schedule an interview for our new 6 week challenge starting soon!
APPLY HERE>>> NEW 6-Week Total Body Transformation Challenge
I'd love to help you achieve your best self!
Please share my educational content with your friends and family and help us influence even more Silicon Valley Residents to reach their full potential >> Subscribe
Your friend & coach,
Brien
Telephone: 650-654-4604
Share this delicious healthy recipe by forwarding it to your friends and family! Click Here to share it on Facebook