Who knew you could bake avocado? It makes a fun little boat for half of a scrambled egg. Enjoy for as a nutritious, on-the-go breakfast or snack.
Servings: 2
INGREDIENTS: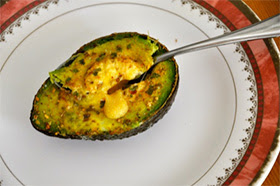 1 organic avocado, halved with pit removed
1 organic, pastured egg
sea salt, pepper, and your favorite seasoning – I used Fajita Seasoning
DIRECTIONS:
Preheat the oven to 425 degrees F.
Flip each avocado side over and slice off enough of the rounded skin so that it can sit flat when the fleshy side is up.
Place the avocados fleshy side up in a baking pan. Crack some salt into each hole.
Whisk the egg in a bowl and pour into the avocado holes (divide in half).
Sprinkle with salt, pepper and the seasoning of your choice.
Bake for 16-18 minutes, until the egg has fully set. Eat with a spoon and enjoy!
Nutritional Analysis: One serving equals: 176 calories, 15g fat, 35mg sodium, 8g carbohydrate, 8g fiber, and 6g protein
FeastPeace now delivers healthy, fresh organic meals to the Harbor Studio- Belmont Fit Body Boot Camp location. Order your food before 8 pm every Thursday to get delivery the following week.
Your friend & coach,
Brien
About Brien
Join Brien on Facebook
Write a Google+ Review
Write a Yelp Review: Belmont Boot Camp, Burlingame Boot Camp, San Carlos Boot Camp, Shamp's Studio Boot Camp
Disclaimer