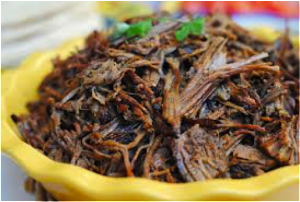 INGREDIENTS:
2 lb. grass-fed brisket
1 large onion, slice
4 garlic cloves, minced
1 cup organic beef broth
1/4 cup organic ketchup
1 tbsp. coconut sugar
1/2 tsp. sea salt
1/2 tsp. pepper
For shell: cabbage leaves
Taco Topping Ideas: butternut squash puree, roasted butternut squash, peas, and cranberries, and roasted carrots
DIRECTIONS:
Remove meat from the refrigerator and let sit for 10-20 minutes
Season lightly with salt and pepper
In a skillet heat 1 tbsp. oil of choice and brown each side of the brisket for 2-3 minutes
While cooking, slice onions and mince garlic and line the crock-pot with them
Remove brisket and place on top of the bed of onions and garlic
In a bowl wisk together coconut sugar, ketchup, beef broth, salt and pepper
Pour over the brisket and set on low for 6-8 hours
Once done, remove and shred the brisket
Make a batch of "taco shells" (the cabbage leaves) and stuff with your favorite add-ins.
Your friend & coach,
Brien
About Brien
Join Brien on Facebook
Write a Google+ Review
Write a Yelp Review: Belmont Boot Camp, Burlingame Boot Camp, San Carlos Boot Camp, Shamp's Studio Boot Camp
Disclaimer