For some reason I am in the mood for turkey 🙂 Meals like this will help you quickly reach your fat loss goal. The shredded cauliflower, rice and onions in this recipe make an amazing substitution for grain-based pilaf. With the addition of lean, ground turkey and lettuce this comfort-food tasting meal is actually quite lean and green.
Servings: 6
INGREDIENTS:
12 large Romaine lettuce leaves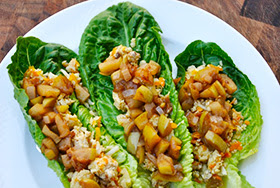 For the Cinnamon Ground Turkey Rice:
1 Tablespoon olive oil
2 carrots, shredded
1/2 yellow onion, minced
dash of sea salt
1/2 teaspoon ground cinnamon
1 lb ground, organic turkey
1 head cauliflower, shredded (To shred: cut into florets and run through a food processor with the grating attachment)
1/3 cup golden raisins
1 cup chicken broth
dash of freshly ground pepper
For the Quick Apple Chutney:
1 Tablespoon coconut oil
1/2 yellow onion, minced
2 green apples, chopped
1/4 teaspoon ground cinnamon
1 Tablespoon coconut crystals
1/2 cup apple juice or apple cider
sprinkle of sea salt
DIRECTIONS:
For the Cinnamon Ground Turkey Rice: In a large skillet place the olive oil over medium heat. Add the carrots and onions, cook for 3 minutes, until soft. Add salt, cinnamon and ground turkey. Cook until the meat is no longer pink. Add the head of shredded cauliflower, raisins, broth and pepper. Cook for another 4 minutes, until heated through.
For the Quick Apple Chutney: In a medium skillet place the coconut oil over medium heat. Add the onion and apples. Cover and cook for 10 minutes. Uncover, add the cinnamon, coconut crystals, apple juice and salt. Bring to a boil, then simmer for another 4 minutes until apples are tender.
Assemble Your Lettuce Wraps: Spread a generous spoonful of the turkey mixture along the center of a Romaine lettuce leaf, top with a spoonful of chutney. Enjoy!
Nutritional Analysis: One serving equals: 248 calories, 9g fat, 156mg sodium, 25g carbohydrate, 5g fiber, and 17g protein
FeastPeace, our NEW organic meal delivery service to the Harbor Studio- Belmont Fit Body Boot Camp location has been outstanding. If you don't have the time to cook daily or if you are confused on what makes a healthy meal give " FeastPeace a try! You must order your meals at least 4 days in advance.
For more information and to order: FeastPeace Organic Meal Deliveries
Please share my educational content with your friends and family and help me reach my goal of 10,000 subscribers: Subscribe
Your friend & coach,
Brien
About Brien
Join Brien on Facebook
Write a Google+ Review
Write a Yelp Review: Belmont Boot Camp, Burlingame Boot Camp, San Carlos Boot Camp, Shamp's Studio Boot Camp
Disclaimer