Here's another fabulous recipe to try by Diana Keuilian!
Serves 4
INGREDIENTS
2 acorn squash
1 Tablespoon coconut oil, melted
¼ teaspoon garlic salt
¼ teaspoon ground sage
1 lb sweet Italian sausage, loose
1 Tablespoon olive oil
2 teaspoons garlic, minced
1 yellow onion, chopped
2 celery ribs, chopped
4 oz mushrooms, chopped
2 apples, seeded and chopped
¼ cup dry, white wine
1 teaspoon dried marjoram
½ teaspoon dried, ground sage
1 cup cooked quinoa
sea salt and black pepper
1 egg, beaten
2 Tablespoons fresh parsley, chopped
DIRECTIONS:
Preheat the oven to 375 F. Cut the acorn squash in half, widthwise. Seed. Mix the coconut oil with the garlic salt and ¼ teaspoon sage. Brush over the acorn squash. Bake for 60 minutes.
Place a large skillet over med high heat. Add the sausage and cook for 5 minutes, breaking it up into smaller pieces until all the pink is gone. Push to the sides of the pan, leaving the center clear.
Add the olive oil to the center of the pan. Add the garlic and onion, cooking for 5 minutes. Add the celery, mushroom, apple, white wine, marjoram and sage. Cook for 5-10 minutes. Remove from heat and place in large bowl.
Mix in the quinoa, sea salt and black pepper, egg and parsley. Fill the acorn squash, mounding slightly. Bake for 20 more minutes until the egg is set. Enjoy!
Nutrition Analysis: Calories: 542     Fat: 24g     Carbohydrates: 61g     Sodium: 850mg     Fiber: 10g     Protein: 20g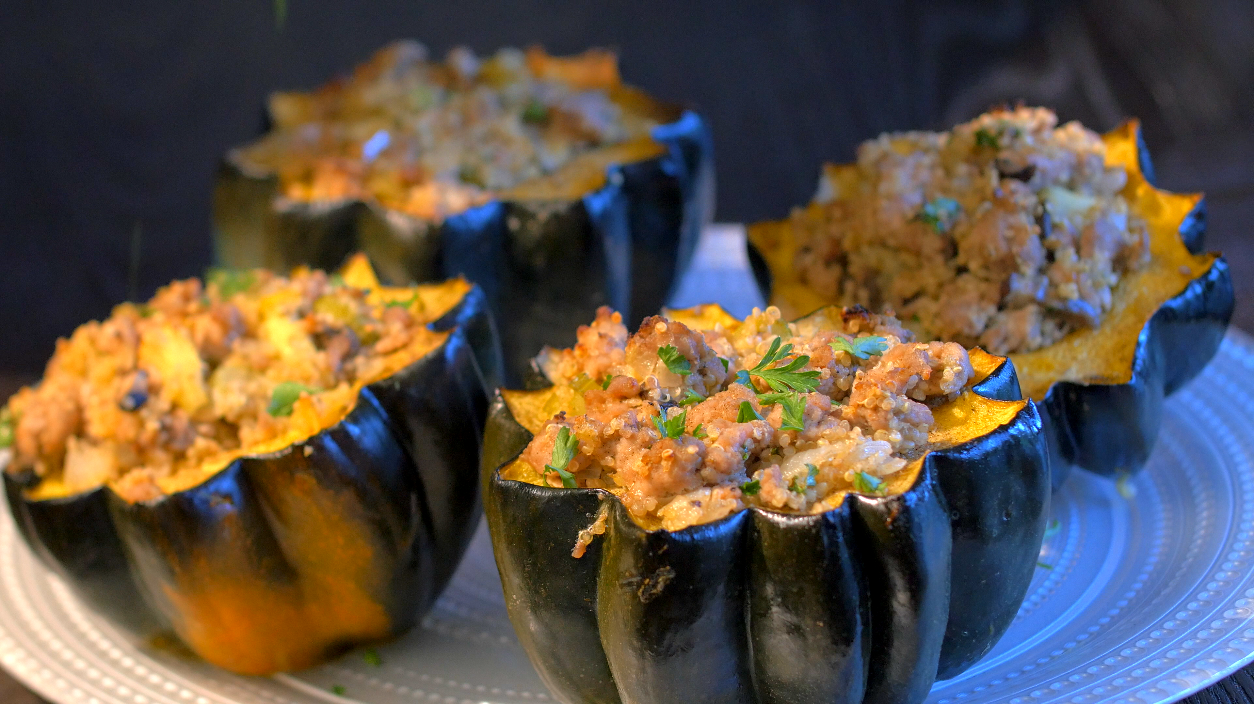 Your friend & coach,
Brien
About Brien
Join Brien on Facebook
Write a Google+ Review
Write a Yelp Review: Belmont Boot Camp, Burlingame Boot Camp, San Carlos Boot Camp, Shamp's Studio Boot Camp
Disclaimer