Check out this great recipe below by Diana Keuilian.
Prep Time: 25 minutes
Cook Time: 8 hours
Servings: 10
INGREDIENTS
1 (3lb) boneless pork shoulder
10 garlic cloves, chopped
1 Tablespoon ground cumin
1 teaspoon dried oregano
1 teaspoon sea salt
½ teaspoon black pepper
1 Tablespoon Tajin
1 cup orange juice
1 yellow onion, thinly sliced
1 (4oz) can mild green chiles, diced
4 chipotle chiles canned in adobo sauce**, plus 1 Tablespoon (or more!) of the sauce
2 heads of butter lettuce
1 mango, chopped
½ cup pico de gallo**
¼ cup fresh cilantro, chopped
*In Mexican cuisine, pico de gallo, also called salsa fresca, is a fresh, uncooked salad made from chopped tomato, onion, cilantro, fresh serranos, salt, and key lime juice. – Wikipedia
**Adobo or Adobar is the immersion of raw food in a stock composed variously of paprika, oregano, salt, garlic, and vinegar to preserve and enhance its flavor. – Wikipedia
DIRECTIONS:
Place the pork shoulder in a large slow cooker. Rub all over with the garlic.
Combine the cumin, oregano, sea salt, pepper and Tajin in a small bowl. Rub over the pork.
In a medium bowl combine the orange juice, sliced onion and green chiles. Chop the chipotle chiles and add to the bowl with some adobo sauce. It's pretty spicy, so be careful to add your desired amount. Pour this mixture over the pork.
Cook on low heat for 8 hours.
Remove the pork from the slow cooker and shred with 2 forks. Serve the pork on large butter lettuce leaves and top with chopped mango, pico de gallo and cilantro. Enjoy!
Nutritional Info: Calories: 359, Fat: 23, Carbohydrates: 15, Sodium: 862, Fiber: 4, Protein: 23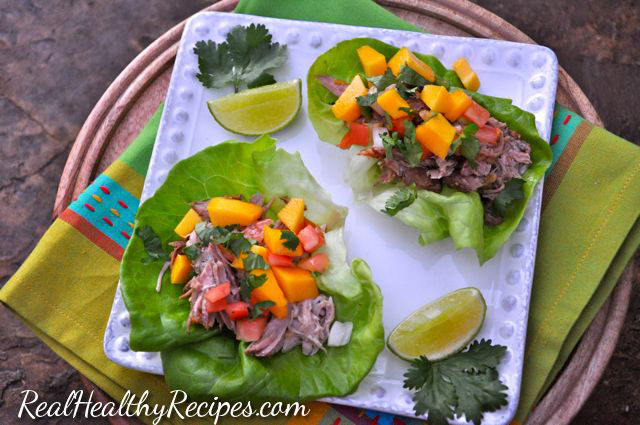 Your friend & coach,
Brien
About Brien
Join Brien on Facebook
Write a Google+ Review
Write a Yelp Review: Belmont Boot Camp, Burlingame Boot Camp, San Carlos Boot Camp, Shamp's Studio Boot Camp
Disclaimer