Thanks to NomNomPaleo.com for this delicious recipe!
Servings: 2
INGREDIENTS:
4 strips of thick-cut pastured bacon
guacamole
fresh squeezed lime juice (1 lime)
DIRECTIONS: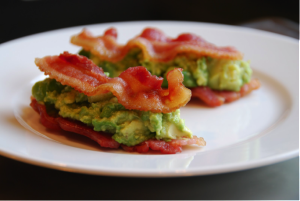 Sauté 4 slices of bacon until crispy.
Wait until cooled.
The filling for these "sandwiches" is chunky homemade guacamole. And if you're pressed for time, simply mash up the flesh of half an avocado, and cut up the other half into half-inch cubes.
Then mix both halves together in a bowl to get a nice blend of chunky and creamy. Flavor it with a squirt or two of lime juice.
Your friend & coach,
Fit Body Boot Camp is the only 30 minute group personal training program that's fun, affordable, gives you fat loss results and challenges your body every time. Best of all, we guarantee you'll be happy with the results or you get your money back.
Brien
About Brien
Join Brien on Facebook
Write a Google+ Review
Write a Yelp Review: Belmont Boot Camp, Burlingame Boot Camp, San Carlos Boot Camp, Shamp's Studio Boot Camp
Disclaimer