Credit to damndelicious.com for this creative and tasty recipe.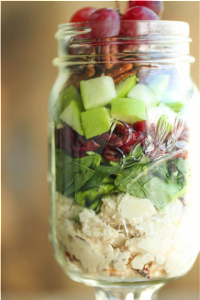 Servings: 4
INGREDIENTS:
2 cups chopped kale leaves
1/2 cup dried cranberries
2 Granny Smith apples, chopped
1/2 cup pecans, chopped
1 cup grapes
2 boneless, skinless thin-sliced chicken breasts
Kosher salt and freshly ground black pepper
1/3 cup plain Greek yogurt
1/4 cup diced red onion
2 stalks celery, diced
2 tablespoons mayonnaise, optional
2 tablespoons sliced almonds
1 tablespoon freshly squeezed lemon juice, or more, to taste
DIRECTIONS:
Season chicken breasts with salt and pepper, to taste. Add to skillet and cook, flipping once, until cooked through, about 3-4 minutes per side.
Let cool before dicing into bite-size pieces.
In a medium bowl, combine chicken, Greek yogurt, red onion, celery, mayonnaise, almonds and lemon juice; season with salt and pepper, to taste.
To assemble, divide chicken mixture, kale, cranberries, apples, pecans and grapes into four wide-mouth canning jars with tight-fitting lids.
Your friend & coach,
Brien
Fit Body Boot Camp is the only 30 minute group personal training program that's fun, affordable, gives you fat loss results and challenges your body every time. Best of all, we guarantee you'll be happy with the results or you get your money back.
About Brien
Join Brien on Facebook
Write a Google+ Review
Write a Yelp Review: Belmont Boot Camp, Burlingame Boot Camp, San Carlos Boot Camp, Shamp's Studio Boot Camp
Disclaimer