Here's a delicious breakfast recipe for you 🙂
Servings: 10
INGREDIENTS: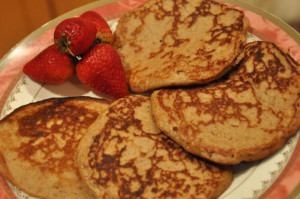 6 omega-3, free range eggs
6 Tablespoons coconut oil, melted
3/4 cup unsweetened coconut milk
1 Tablespoon raw honey
2 teaspoons vanilla extract
1 cup coconut flour
1 teaspoon salt
2 teaspoons baking powder
2 teaspoons ground cinnamon
1 cup filtered water
DIRECTIONS:
Pre-heat your pancake griddle and grease with a touch of coconut oil.
In medium bowl whisk the eggs, oil, milk, honey and vanilla.
In another bowl, combine the coconut flour, salt and baking powder. Whisk to combine.
Add the wet ingredients to the dry ones and mix well. Add the water and mix.
Cook on the pancake griddle until golden.
Nutritional Analysis: One serving contains approx. 194 calories, 13.4g fat, 267mg sodium, 9.7g carbohydrate, 4.2g fiber, and 6.3g protein.
Your friend & coach,
Brien
Fit Body Boot Camp is the only 30 minute group personal training program that's fun, affordable, gives you fat loss results and challenges your body every time. Best of all, we guarantee you'll be happy with the results or you get your money back.
Telephone: 650-654-4604
About Brien
Join Brien on Facebook
Write a Google+ Review
Write a Yelp Review: Belmont Boot Camp, Burlingame Boot Camp, San Carlos Boot Camp, Shamp's Studio Boot Camp
Disclaimer