Pancakes are a great breakfast no matter what the weather is like. Puff pancakes are probably the easiest pancakes to make since you just pour all the batter into a pie pan and bake it for 20 minutes — no flipping necessary.
Servings: 10
INGREDIENTS: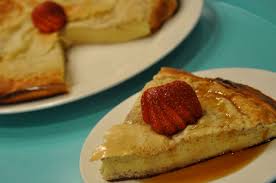 2 Tablespoons organic butter
1/2 cup non-fat Greek yogurt
1/2 cup water
6 organic, omega 3, free range eggs
2 Tablespoons raw honey
1/2 cup low fat cottage cheese
1 cup almond meal
1 teaspoon baking powder
1/2 teaspoon salt
DIRECTIONS:
Preheat oven to 425 degrees F. Place butter in a pie plate and melt in the oven.
Place all the remaining ingredients in blender and blend for 1 minute. Pour batter into pie plate.
Bake until puffy and golden, about 20 minutes. Cut into wedges and serve with fresh strawberries and pure maple syrup.
Nutritional Analysis: One serving equals approximately: 156.2 calories, 11g fat, 203mg sodium, 7.2g carbohydrate, 1.2g fiber, and 8.7g protein.
Your friend & coach,
Brien
Fit Body Boot Camp is the only 30 minute group personal training program that's fun, affordable, gives you fat loss results and challenges your body every time. Best of all, we guarantee you'll be happy with the results or you get your money back.
Telephone: 650-654-4604
About Brien
Join Brien on Facebook
Write a Google+ Review
Write a Yelp Review: Belmont Boot Camp, Burlingame Boot Camp, San Carlos Boot Camp, Shamp's Studio Boot Camp
Disclaimer