Here's another fantastic breakfast recipe courtesy of Diana Keuilian!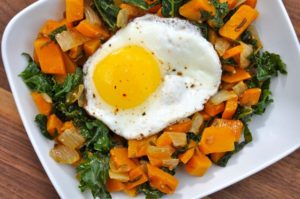 SERVINGS: 4
INGREDIENTS:
1 Tablespoon olive oil
1 butternut squash, peeled, seeded and cubed
½ yellow onion, chopped
2 teaspoons garlic, minced
2 Tablespoons fresh rosemary, minced
1 cup chopped kale
Sea salt and black pepper
4 eggs
DIRECTIONS:
Heat the oil in a large skillet.
Add the butternut squash, onion, garlic and rosemary.
Cook over medium-high heat until tender.
Mix in the kale and continue to cook until wilted.
Season generously, with salt and pepper. Remove from heat.
Grease another skillet with olive oil and place over medium-high heat.
Individually, crack the 4 eggs into the hot skillet and do not stir.
Season with salt and pepper and cook untouched for 2 minutes. The egg whites should be crispy and the yolk runny.
Place on top of the hash and serve hot. Enjoy!
Nutritional Analysis: Each serving contains approximately: Calories: 151 Fat: 9 Carbohydrates: 11 Sodium: 326 Fiber: 2 Protein: 8
For more delicious and healthy recipes, check out my recipes webpage.
Your friend & coach,
Brien
Try out our Fit Body Boot Camp Afterburn Workout totally FREE with unlimited sessions for 7 days: 1 Week Boot Camp Trial Info
Fit Body Boot Camp is the only 30 minute group personal training program that's fun, affordable, gives you fat loss results and challenges your body every time. Best of all, we guarantee you'll be happy with the results or you get your money back.
The boot camp sessions are approximately 45-50 minutes long. Each session includes a 10-15 minute warm up phase with mobility and core movements to prepare you for the 30 minute metabolic workout, and then it ends with a 5 minute cool down phase.
Telephone: 650-654-4604
About Brien
Join Brien on Facebook
Write a Google+ Review
Write a Yelp Review: Belmont Boot Camp, Burlingame Boot Camp, San Carlos Boot Camp, Shamp's Studio Boot Camp
Disclaimer