This Warm Bacon Spinach Salad recipe by Diana Keuilian is a real winner in my book. You have got to check it out!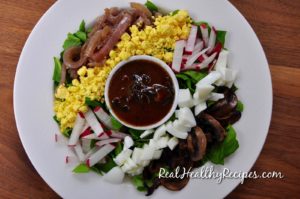 Servings: 4
INGREDIENTS:
For the Warm Bacon Dressing
4 pieces of bacon
3 Tablespoons bacon fat
3 Tablespoons apple cider vinegar
2 teaspoons raw honey
1 Tablespoon Dijon mustard
⅛ teaspoon sea salt
For the Salad
4 eggs
8 white mushrooms, sliced
1 red onion, sliced
8 radishes, sliced into thin matchsticks
6 cups baby spinach, chopped
For the Warm Bacon Dressing
In a large skillet over medium high heat cook the bacon until crispy.
Chop the bacon into ½ inch strips and save all of the bacon fat from the skillet.
Combine all of the dressing ingredients in a small saucepan.
Place over low heat and stir until thickened – about 4 minutes.
For the Salad
Heat water to boiling in a pot with a steamer.
Place the eggs on top of the steamer, cover, and steam for 12 minutes.
Immediately plunge the eggs into a bowl of ice water.
Once they're cool enough to handle, roll the eggs on the counter to quickly and painlessly peel.
Separate the egg whites from the yolks.
Dice the egg whites and yolks separately and set aside.
Place 1 Tablespoon of bacon fat into each of 2 medium sized skillets over medium high heat.
In one skillet sauté the sliced mushrooms until soft – about 8 minutes.
In the other skillet sauté the sliced red onion until tender – about 12 minutes.
Arrange the salad with a bed of chopped spinach, and a line of each: sautéed mushrooms, diced egg whites, sliced radish, chopped egg yolk and sautéed red onion.
Serve with the warm bacon dressing. Enjoy!
Nutritional Analysis: Each serving contains approximately Calories: 139 Fat: 7g Carbohydrates: 9g Sugar: 5g Sodium: 352mg Fiber: 3g Protein: 11g
Your friend & coach,
Brien
Try out our Fit Body Boot Camp Afterburn Workout totally FREE with unlimited sessions for 7 days: 1 Week Boot Camp Trial Info
Fit Body Boot Camp is the only 30 minute group personal training program that's fun, affordable, gives you fat loss results and challenges your body every time. Best of all, we guarantee you'll be happy with the results or you get your money back.
The boot camp sessions are approximately 45-50 minutes long. Each session includes a 10-15 minute warm up phase with mobility and core movements to prepare you for the 30 minute metabolic workout, and then it ends with a 5 minute cool down phase.
Telephone: 650-654-4604
About Brien
Join Brien on Facebook
Write a Google+ Review
Write a Yelp Review: Belmont Boot Camp, Burlingame Boot Camp, San Carlos Boot Camp, Shamp's Studio Boot Camp
Disclaimer