Check out this fantastic recipe by Diana Keuilian
Servings: 6
INGREDIENTS: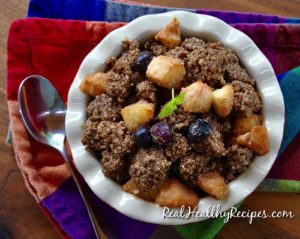 For the Fruit
8 peaches
1 Tablespoon lemon zest
2 Tablespoons lemon juice
¼ cup coconut palm sugar
2 Tablespoons coconut flour
1 cup fresh blueberries
For the Cobbler Crumble
1 cup pecans
⅓ cup coconut palm sugar
½ teaspoon sea salt
¼ teaspoon ground cinnamon
¼ cup coconut oil, cold
DIRECTIONS:
Preheat the oven to 350 degrees F.
Lightly grease a casserole pan, or 6 individual ovenproof ramekins with coconut oil.
Bring a large pot of water to boil. Add the peaches, whole, for 1 minute. Remove and pat dry.
Once cooled, remove the skin, pit and cut into large chunks. Place the pieces of peach into a large bowl.
Add the lemon zest, lemon juice, coconut palm sugar and coconut flour to the bowl of peaches and mix well.
Add the blueberries and gently mix until well combined.
Spread the fruit mixture into the bottom of the casserole pan or the individual ramekins.
Place the pecans in a large, dry, skillet over medium heat. Toast, stirring often, until lightly golden.
Remove the pecans from the skillet and place in a food processor. Grind into coarse flour. Add the coconut palm sugar, salt, cinnamon and coconut oil and pulse into crumbles.
Sprinkle the cobbler crumbles evenly over the top of the fruit.
Bake for 30-40 minutes, until the fruit is bubbly and the crust is golden.
Serve with a scoop of Vanilla Ice Cream. Enjoy!
Your friend & coach,
Brien
Try out our Fit Body Boot Camp Afterburn Workout totally FREE with unlimited sessions for 7 days: 1 Week Boot Camp Trial Info
Fit Body Boot Camp is the only 30 minute group personal training program that's fun, affordable, gives you fat loss results and challenges your body every time. Best of all, we guarantee you'll be happy with the results or you get your money back.
The boot camp sessions are approximately 45-50 minutes long. Each session includes a 10-15 minute warm up phase with mobility and core movements to prepare you for the 30 minute metabolic workout, and then it ends with a 5 minute cool down phase.
Telephone: 650-654-4604
About Brien
Join Brien on Facebook
Write a Google+ Review
Write a Yelp Review: Belmont Boot Camp, Burlingame Boot Camp, San Carlos Boot Camp, Shamp's Studio Boot Camp
Disclaimer