Here's a fabulous recipe courtesy of www.myrecipes.com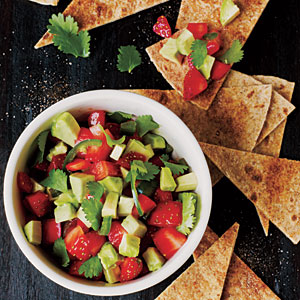 Servings: 12 (serving size: 6 chips and about 3 tablespoons avocado mixture)
INGREDIENTS:
2 teaspoons canola oil
6 (6-inch) whole-wheat flour tortillas
2 teaspoons sugar
1/2 teaspoon ground cinnamon
1-1/2 cups finely chopped peeled ripe avocado (about 2)
1 cup finely chopped strawberries
2 tablespoons minced fresh cilantro
1 teaspoon minced seeded jalapeño pepper
2 teaspoons fresh lime juice
3/8 teaspoon salt
DIRECTIONS:
Preheat oven to 350°.
To prepare chips, brush oil evenly over one side of each tortilla. Combine sugar and cinnamon; sprinkle evenly over oil-coated sides of tortillas. Cut each tortilla into 12 wedges; arrange wedges in a single layer on two baking sheets. Bake at 350° for 10 minutes or until crisp.
Combine avocado and remaining ingredients; stir gently to combine. Serve with chips.
Check out more fabulous recipes on https://brienshamp.com/recipes
Your friend & coach,
Brien
Try out our Fit Body Boot Camp Afterburn Workout totally FREE with unlimited sessions for 7 days: 1 Week Boot Camp Trial Info
Fit Body Boot Camp is the only 30 minute group personal training program that's fun, affordable, gives you fat loss results and challenges your body every time. Best of all, we guarantee you'll be happy with the results or you get your money back.
The boot camp sessions are approximately 45-50 minutes long. Each session includes a 10-15 minute warm up phase with mobility and core movements to prepare you for the 30 minute metabolic workout, and then it ends with a 5 minute cool down phase.
Telephone: 650-654-4604
About Brien
Join Brien on Facebook
Write a Google+ Review
Write a Yelp Review: Belmont Boot Camp, Burlingame Boot Camp, San Carlos Boot Camp, Shamp's Studio Boot Camp
Disclaimer