Thanks to Monique of Ambitious Kitchen for this delicious recipe! "Ground turkey, sweet apples, and maple syrup combine to make healthy homemade breakfast patties! Perfect for the morning and great for freezing and reheating!" You can view this recipe and more at: Ambitious Kitchen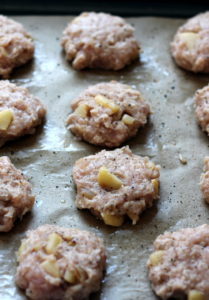 Servings 16 Patties
INGREDIENTS:
1 teaspoon olive oil
1/2 yellow onion, finely chopped
1 garlic clove, minced
1 Honeycrisp or Braeburn apple, finely chopped
1/2 teaspoon cinnamon
pinch of nutmeg
1 pound extra lean ground turkey
1 1/2 tablespoons pure maple syrup
2 egg whites
1/4 cup gluten free oat flour (I use Bob's Red Mill)
1/2 teaspoon salt
freshly ground black black pepper
DIRECTIONS:
Preheat oven to 450 degrees F. Line large baking sheet with parchment paper and spray with nonstick cooking spray.
Heat olive oil in a large frying pan over medium heat. Add onions and and garlic and cook until garlic becomes fragrant, about 3 minutes.
Add in diced apples and cook a few minutes more or until apples
soften. Remove from heat, transfer to a large bowl, and stir in cinnamon and nutmeg.
Add in ground turkey, maple syrup, egg whites, oat flour, and salt and pepper; mix well.
Divide into 16 patties and place on prepared baking sheet.
Bake for 10 minutes or until turkey is no longer pink.
Serve with extra maple syrup.
Nutritional Analysis: Each patty contains approximately Calories: 56 Fat: 1.0g Carbohydrates: 4.4g Sugar: 2.5g Fiber: 0.6g Protein: 7.7g
More of my recommended recipes can be found here>>> Recipes
We are adding more recipes daily.
I hope that you get a chance to give this recipe a try soon. Remember that I'm only a call or email away to assist you in all things health & fitness. And if you are not yet one of my prized clients apply as soon as you can to schedule an interview for our new 6 week challenge starting soon!
APPLY HERE>>> NEW 6-Week Total Body Transformation Challenge
I'd love to help you achieve your best self!
Please share my educational content with your friends and family and help us influence even more Silicon Valley Residents to reach their full potential >> Subscribe
Your friend & coach,
Brien
Telephone: 650-654-4604
Share this delicious healthy recipe by forwarding it to your friends and family! Click Here to share it on Facebook