Thanks to Monique of Ambitious Kitchen for this delicious recipe! "Ground turkey, sweet apples, and maple syrup combine to make healthy homemade breakfast patties! Perfect for the morning and great for freezing and reheating!" You can view this recipe and more at: Ambitious Kitchen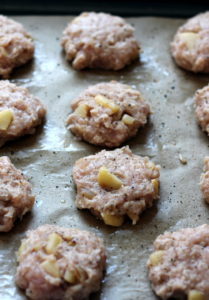 Servings 16 Patties
INGREDIENTS:
1 teaspoon olive oil
1/2 yellow onion, finely chopped
1 garlic clove, minced
1 Honeycrisp or Braeburn apple, finely chopped
1/2 teaspoon cinnamon
pinch of nutmeg
1 pound extra lean ground turkey
1 1/2 tablespoons pure maple syrup
2 egg whites
1/4 cup gluten free oat flour (I use Bob's Red Mill)
1/2 teaspoon salt
freshly ground black black pepper
DIRECTIONS:
Preheat oven to 450 degrees F. Line large baking sheet with parchment paper and spray with nonstick cooking spray.
Heat olive oil in a large frying pan over medium heat. Add onions and and garlic and cook until garlic becomes fragrant, about 3 minutes.
Add in diced apples and cook a few minutes more or until apples
soften. Remove from heat, transfer to a large bowl, and stir in cinnamon and nutmeg.
Add in ground turkey, maple syrup, egg whites, oat flour, and salt and pepper; mix well.
Divide into 16 patties and place on prepared baking sheet.
Bake for 10 minutes or until turkey is no longer pink.
Serve with extra maple syrup.
Nutritional Analysis: Each patty contains approximately Calories: 56 Fat: 1.0g Carbohydrates: 4.4g Sugar: 2.5g Fiber: 0.6g Protein: 7.7g
Check out more fabulous recipes on https://brienshamp.com/recipes
Your friend & coach,
Brien
Try out the Fit Body Boot Camp Afterburn Workout for 21 days. You'll see why we're rated the best in the Bay Area! 21 Day Rapid Fat Loss Program Boot Camp Trial
Fit Body Boot Camp is the only 30 minute group personal training program that's fun, affordable, gives you fat loss results and challenges your body every time. Best of all, we guarantee you'll be happy with the results or you get your money back.
The boot camp sessions are approximately 45-50 minutes long. Each session includes a 10-15 minute warm up phase with mobility and core movements to prepare you for the 30 minute metabolic workout, and then it ends with a 5 minute cool down phase.
Telephone: 650-654-4604
About Brien
Join Brien on Facebook
Write a Google+ Review
Write a Yelp Review: Belmont Boot Camp, Burlingame Boot Camp, San Carlos Boot Camp, Shamp's Studio Boot Camp
Disclaimer