These aren't just any old muffins! I've done a few things to bump up the nutritional value to set them apart from other muffin recipes. Here's what makes these muffins better for your health and for your waistline:
I used cooked quinoa! This increases the muffin's protein power and adds complex carbs to keep you energized and full.
I took out the refined flours and used almond flour. This also increases the protein of each muffin and adds complex carbs. It also makes these muffins 100% gluten free!
I used a small amount of wholesome sweeteners – ZERO refined sugars! This is super important when it comes to avoiding weight gain and sustaining your super power energy levels.
I used a full cup of shredded zucchini. This is excellent fiber!
I used mini chocolate chips sweetened with stevia rather than refined sugar. This means that the total sugar count for each muffin is tiny, while the enjoyment factor is through the roof!
I used mini muffin tins. This is one of the BEST ways to control portion sizes! So you get to enjoy a delicious morsel without taking in too many calories.
Courtesy of RealHealthyRecipes.com
Servings: 24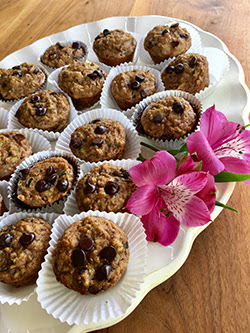 INGREDIENTS:
½ cup cooked quinoa
1 cup blanched almond flour
1½ teaspoons baking soda
½ teaspoon sea salt
1 teaspoon ground cinnamon
pinch of nutmeg
3 eggs
3 Tablespoons raw honey, melted
1 teaspoon vanilla extract
1 banana, mashed
1 Tablespoon coconut oil, melted
1 cup zucchini, shredded and drained
¼ cup lily's mini chocolate chips (stevia-sweetened)
DIRECTIONS:
Preheat oven to 350 degrees and generously grease a mini muffin tin with coconut oil.
Combine the quinoa, almond flour, baking soda, salt, cinnamon and nutmeg in a medium bowl and set aside.
Combine the eggs, honey, vanilla, banana and oil in another bowl.
Mix well and add the dry ingredients. Mix until fully combined.
Fold in the zucchini and chocolate chips.
Pour 1 Tablespoon of batter into 24 mini muffin tins.
Bake for 18 minutes or until golden and set.
Remove from oven and let cool for 5 minutes.
Transfer out of muffin pan and cool on wire rack. Enjoy! 🙂
Nutritional Analysis: 56 calories, 2g fat, 7g carbohydrate, 127mg sodium, 2g sugar, 1g fiber, and 1g protein.
Check out more fabulous recipes on https://brienshamp.com/recipes
Your friend & coach,
Brien
Try out the Fit Body Boot Camp Afterburn Workout for 21 days. You'll see why we're rated the best in the Bay Area! 21 Day Rapid Fat Loss Program Boot Camp Trial
Fit Body Boot Camp is the only 30 minute group personal training program that's fun, affordable, gives you fat loss results and challenges your body every time. Best of all, we guarantee you'll be happy with the results or you get your money back.
The boot camp sessions are approximately 45-50 minutes long. Each session includes a 10-15 minute warm up phase with mobility and core movements to prepare you for the 30 minute metabolic workout, and then it ends with a 5 minute cool down phase.
Telephone: 650-654-4604
About Brien
Join Brien on Facebook
Write a Google+ Review
Write a Yelp Review: Belmont Boot Camp, Burlingame Boot Camp, San Carlos Boot Camp, Shamp's Studio Boot Camp
Disclaimer