Many marinades are filled with sweeteners, infusing your healthy dinner with unwanted simple sugars. This recipe removes all worry by using a small amount of liquid stevia along with other fresh and wholesome flavors to liven up this tender, grilled chicken breast.
Enjoy with a side of veggies!
Courtesy of RealHealthyRecipes.com​
Servings: 4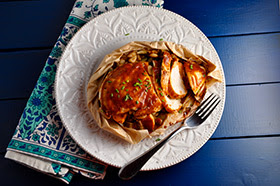 Here's what you need
For the Asian Marinade:
¼ cup coconut aminos
¼ cup Balsamic Vinegar
1 tablespoon olive oil
1 teaspoon Liquid Stevia
1 tablespoon Garlic, minced
2 tablespoons fresh ginger, minced
3 fresh scallions, thinly sliced
For the Chicken:
4 boneless, skinless chicken breasts
Instructions
Combine all of the marinade ingredients in a large ziplock bag. Add the chicken breasts and marinade in the fridge for 2 hours or overnight.
Preheat grill for medium-high heat. Oil the grill grate.
Place chicken breast on the grill and discard the marinade. Grill for 5-7 minutes on each side, until cooked through with no pink remaining. Enjoy!
Nutritional Analysis
245 calories, 7g fat, 2g carbohydrate, 0g sugar, 362mg sodium, 0g fiber, and 46g protein.
I hope that you get a chance to give this recipe a try soon. Remember that I'm only a call or email away to assist you in all things health & fitness. And if you are not yet one of my prized clients then call or email me now to set up your first strategy session – I'd love to help you achieve your best self!
For more recipes like this check out our recipe area here: Recipes
We are adding more recipes daily.
Your friend & coach,Brien
Share this delicious healthy recipe by forwarding it to your friends and family! Click Here to share it on Facebook