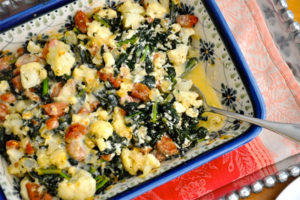 Here is another healthy, homemade dinner that's easy to get on the table after a long, busy day of work. That's why recipes like this one are so wonderful to have on hand – it only takes a few minutes and tastes fantastic.
This casserole like comfort food, but without the guilt. Kale is a nutritional powerhouse, filled with calcium, and numerous vitamins and minerals.
Courtesy of RealHealthyRecipes.com​​
What you need
Serves 6
1 teaspoon olive oil
1 yellow onion, diced
2 garlic cloves, minced
3 cups kale, chopped
dash of salt and pepper
Pinch of each, dried: thyme, rosemary, tarragon, and parsley
4 links nitrate-free, chicken sausage, sliced into half moons
1 head cauliflower, cut into small florets
1/2 cup chicken broth
1 teaspoon lemon juice
1 cup fat free ricotta cheese
1/2 cup Parmesan cheese, shredded and divided
Instructions
Preheat oven to 425 degrees F. Lightly grease a casserole dish with olive oil. Place a large pot of water to boil with a pinch of salt.
In a large skillet over medium heat, sauté the olive oil, onion, garlic, salt and pepper, dried herbs and chicken sausage. Mix well, and then add kale. Cover for about 3 minutes, until kale gets bright green and wilted, then remove cover. Sauté for an additional 3 minutes until everything is tender. Set aside.
Place the cauliflower florets in the pot of boiling water. Boil for 5 minutes, then remove from heat, drain, and return cauliflower to pot.
Add the kale mixture to the pot as well as the chicken broth, lemon juice, ricotta cheese and half of the Parmesan cheese. Mix will over medium heat until all has been incorporated.
Transfer to prepared casserole dish. Top with remaining Parmesan cheese. Cover with foil and bake for 15 minutes. Remove foil and bake for an additional 5 minutes.
Remove from oven and serve.
Nutrition
One serving equals 238 calories, 10g fat, 584mg sodium, 14g carbohydrate, 4g fiber, and 18g protein
Motivate your friends, family and co-workers! Use the "refer a friend" link below to forward this newsletter to your friends, family, and coworkers.
Please let me know if you have any questions!
Your friend and coach,
Brien Shamp
650-654-4604
​info@brienshamp.com​