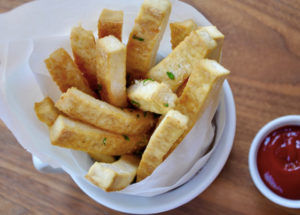 Who doesn't occasionally crave a big basket of French Fries dipped in tangy ketchup? It's only natural! So rather than throw your results out the window by chowing down on some seriously greasy fries that propel your eating habits on a downward spiral, try these Tofu Baked Fries.
There's no need for a fryer, these fries get nice and crispy on the outside by simply baking. Also feel free to get creative with the spices – if you like Cajun then throw in some garlic powder, paprika, black pepper, onion powder, cayenne pepper, oregano, thyme, and red pepper flakes. Or if you prefer sweet throw in some cinnamon and coconut palm sugar.
Courtesy of RealHealthyRecipes.com
What You Need
Serves 2
1 (14oz) block of firm organic tofu
2 teaspoons olive oil
dash of sea salt
dash of black pepper
pinch of fresh parsley, minced
dash of Parmesan cheese or nutritional yeast
Instructions
1. Preheat the oven to 375 degrees F.
2. Remove the block of tofu from the packaging and place on a few folded paper towels. Place another couple of paper towels on top of the tofu and top with a couple of cans of food. Leave the tofu like this, to drain off excess liquid, for 10 minutes.
3. Slice the tofu into ½ inch French Fry-like pieces. Lightly grease a rimmed baking sheet with olive oil and arrange the fries in a single layer. Brush the tops of the fries with the olive oil and then sprinkle with the remaining ingredients.
4. Bake for 20-30 minutes, until golden and crispy. Serve with ketchup. Enjoy!
Nutrition
One serving equals: 187 calories, 13g fat, 3g carbohydrate, 2g fiber, and 17g protein.
More of my recommended recipes can be found here>>> Recipes
We are adding more recipes daily.
I hope that you get a chance to give this recipe a try soon. Remember that I'm only a call or email away to assist you in all things health & fitness. And if you are not yet one of my prized clients apply as soon as you can to schedule an interview for our new 6 week challenge starting soon!
APPLY HERE>>> NEW 6-Week MOVE & Transform Challenge
I'd love to help you achieve your best self!
Please share my educational content with your friends and family and help us influence even more Silicon Valley Residents to reach their full potential >> Subscribe
Your friend & coach,
Brien
Telephone: 650-654-4604
Share this delicious healthy recipe by forwarding it to your friends and family! Click Here to share it on Facebook