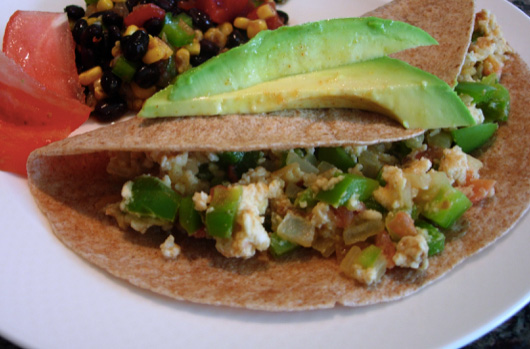 This delicious dish is made with eggs and sautéed vegetables and makes a wonderful light breakfast or any meal for that matter. Enjoy with salsa for an added kick.
Starting your day with a nutritious, filling and high quality protein-fat packed meal like this one will keep you on track with your food choices all day long.
What You Need (choose organic ingredients)
Serves 2
¼ cup onion, chopped
1 medium green bell pepper, chopped
1 teaspoon minced garlic
1 medium tomato, chopped
4 pastured eggs
2 casava flour tortillas
1 avocado
A dash of Paprika
A dash of Garlic salt
Instructions
1. Spray a medium frying pan with olive or avocado cooking spray. Sauté the onion, bell pepper and garlic until soft. Add the tomato and eggs. Cook until the eggs have set.
2. Divide the egg and veggie mixture between the tortillas and fold like a taco.
3. Slice the avocado and sprinkle it with paprika and garlic salt. Arrange the avocado on each taco and serve.
More of my recommended recipes can be found here>>> Recipes
We are adding more recipes daily.
I hope that you get a chance to give this recipe a try soon. Remember that I'm only a call or email away to assist you in all things health & fitness. And if you are not yet one of my prized clients apply as soon as you can to schedule an interview for our new 6 week challenge starting soon!
APPLY HERE>>> NEW 6-Week MOVE & Transform Challenge​
I'd love to help you achieve your best self!
Please share my educational content with your friends and family and help us influence even more Silicon Valley Residents to reach their full potential >> Subscribe
Your friend & coach,
Brien
Telephone: 650-654-4604
Share this delicious healthy recipe by forwarding it to your friends and family! Click Here to share it on Facebook