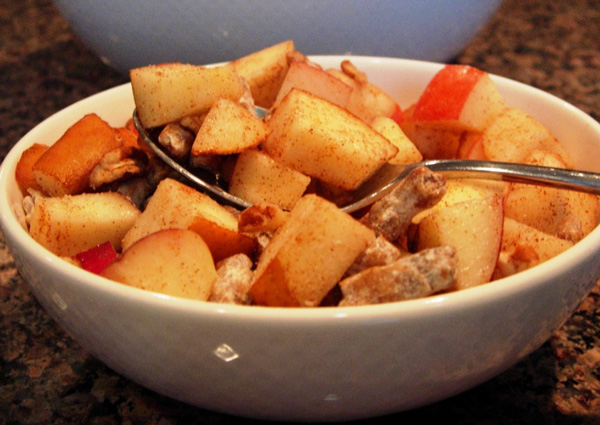 Craving something sweet? This recipe is the perfect dessert. If you don't have nectarine or pear on hand, be creative and use other fresh fruits.
Desserts are where most of us end up making regretful decisions at the end of a long day. Keep your goals at the forefront of your mind by avoiding sugary desserts and instead enjoying a bowl of this tasty Fruit Dessert!
What You Need
Serves 2
1 white nectarine, chopped
1 pear, chopped
1 Tablespoon chopped pecans
1 Tablespoon chopped dates
Dash of cinnamon
Instructions
Mix the nectarine, pear, pecans, and dates in a medium sized bowl. Sprinkle with cinnamon and mix until well coated.
Nutrition
One serving equals: 119 calories, 3g fat, 24g carbohydrate, 4.5g fiber, and 1.5g protein
More of my recommended recipes can be found here>>> Recipes
We are adding more recipes daily.
I hope that you get a chance to give this recipe a try soon. Remember that I'm only a call or email away to assist you in all things health & fitness. And if you are not yet one of my prized clients apply as soon as you can to schedule an interview for our new 6 week challenge starting soon!
APPLY HERE>>> NEW 6-Week Holiday Transform Challenge
I'd love to help you achieve your best self!
Please share my educational content with your friends and family and help us influence even more Silicon Valley Residents to reach their full potential >> Subscribe
Your friend & coach,
Brien
Telephone: 650-654-4604
Share this delicious healthy recipe by forwarding it to your friends and family! Click Here to share it on Facebook