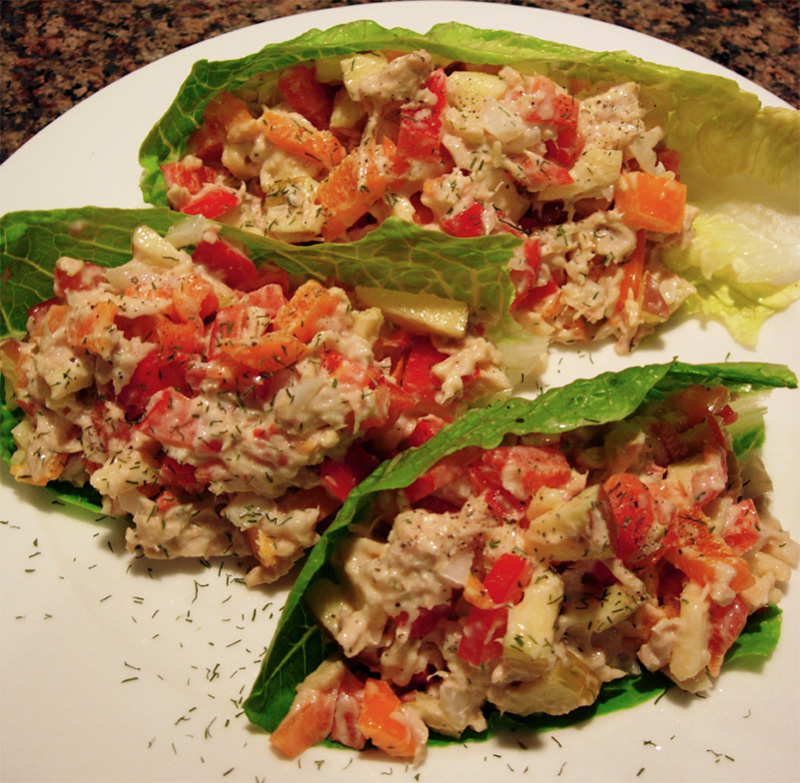 In order to ensure that you are shopping for the most healthy items at the supermarket I like to tell my clients to shop around the perimeter of the store – that's where the fresh produce, eggs and healthy meats are found.
Tuna is one of those rare healthy items that's found in the inner aisles of the grocery store—so venture down the aisle and pick out wild white albacore packed in water. Just steer clear of the junk food aisle! This is an ultra-healthy meal that is high in protein and low in fat.
What You Need
Serves 2
1 can albacore chunk wild tuna, packed in water
2 Tablespoons finely chopped white onion
½ red bell pepper, finely chopped
½ yellow bell pepper, finely chopped
½ apple, finely chopped
2 Tablespoons Mayonnaise- Try Primal Kitchen​
1 teaspoon dried dill
4 large lettuce leaves, washed
Pepper to taste
Instructions
1. Combine the tuna, onion, bell pepper, and apple in a medium bowl. In a small bowl mix the mayonnaise and dill.
2. Add the mayonnaise mixture to the tuna and mix until well combined.
3. Arrange the lettuce leaves on two plates, and fill with tuna. Garnish with a dash of pepper.
More of my recommended recipes can be found here>>> Recipes
We are adding more recipes daily.
I hope that you get a chance to give this recipe a try soon. Remember that I'm only a call or email away to assist you in all things health & fitness. And if you are not yet one of my prized clients apply as soon as you can to schedule an interview for our new 6 week challenge starting soon!
APPLY HERE>>> NEW 6-Week Holiday Transform Challenge​​
I'd love to help you achieve your best self!
Please share my educational content with your friends and family and help us influence even more Silicon Valley Residents to reach their full potential >> Subscribe
Your friend & coach,
Brien
Telephone: 650-654-4604
---
Share this delicious healthy recipe by forwarding it to your friends and family! Click Here to share it on Facebook
---