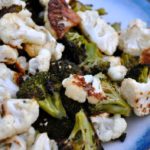 We all know that vegetables are good for us, and that we should eat more fresh veggies in order to increase the fiber and vitamin content of our diets. But, the truth is that most veggie side dishes don't taste good enough to entice the whole family to dive in. This recipe is the answer. Broccoli and cauliflower are roasted in an outrageously tasty way that's simple, quick and full of nutrition.
Serve this delicious veggie side dish with a piece of lean meat for a well-balanced, fitness approved meal.
What you need
Serves 4
1 bunch broccoli
1 bunch cauliflower
1 Tablespoon olive oil
dash of sea salt
dash of pepper
4 garlic cloves, minced
juice from 1 lemon
Instructions
Preheat your oven to 425 degrees F. Lightly grease a large baking sheet with olive oil.
Wash the broccoli and cauliflower heads and then pat dry. It's important to dry thoroughly so that it will roast properly. Cut into small florets.
In a medium bowl combine the florets, olive oil, salt, pepper and garlic cloves. Toss until well combined and then spread over the prepared baking sheet.
Roast for 25 minutes, stirring halfway through. Remove from oven once the florets are tender with crispy bottoms.
Drizzle the lemon juice over the cooked florets and serve immediately.
Nutrition
One serving equals 160 calories, 4g fat, 98mg sodium, 8g carbohydrate, 4g fiber, and 4g protein
Motivate your friends, family and co-workers! Use the "refer a friend" link below to forward this newsletter to your friends, family, and coworkers.
Please let me know if you have any questions!
Your friend and coach,
Brien Shamp
650-654-4604
​info@brienshamp-com.wp3.staging-site.io​