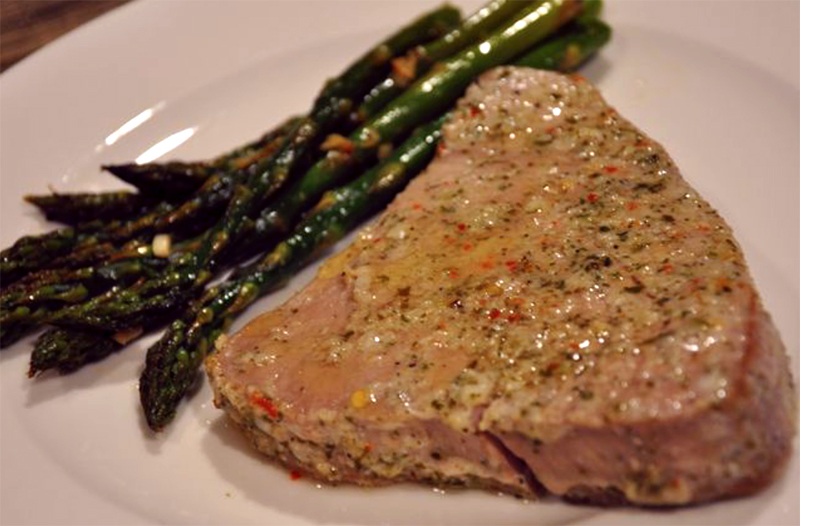 If tuna makes you think of a soggy tuna fish sandwich then this recipe is going to rock your world! This perfectly seasoned Wild Ahi tuna steak is baked in the oven for a surprisingly easy to make dish.
Ahi tuna is high in protein and is low in carbs, the perfect combination for building a lean, toned body. Add a side of roasted asparagus for a delicious healthy meal.
What You Need
Serves 4
1 Tablespoon olive oil
¼ cup lemon juice
4 cloves garlic, minced
1 teaspoon red chili flakes
2 Tablespoons cilantro, minced
dash of salt and pepper
4 (6oz) ahi tuna steaks
Instructions
In a large re-sealable plastic bag combine the first six ingredients; mix well.
Add tuna to the marinade, cover and refrigerate for 1-1/2 hours, turning once. Drain and discard marinade. Preheat oven to 425 degrees F.
Place the tuna in a glass pan. Bake for 10 minutes. Turn the steaks and bake for another 10 minutes or until fish flakes easily with a fork.
Nutrition
One serving equals: 312 calories, 10g fat, .6g carbohydrate, .2g fiber, and 50g protein.
More of my recommended recipes can be found here>>> Recipes
We are adding more recipes daily.
I hope that you get a chance to give this recipe a try soon. Remember that I'm only a call or email away to assist you in all things health & fitness. And if you are not yet one of my prized clients apply as soon as you can to schedule an interview for our new 6 week challenge starting soon!
APPLY HERE>>> NEW 42 Day Detox​​​
I'd love to help you achieve your best self!
Please share my educational content with your friends and family and help us influence even more Silicon Valley Residents to reach their full potential >> Subscribe
Your friend & coach,
Brien
Telephone: 650-654-4604

Share this delicious healthy recipe by forwarding it to your friends and family! Click Here to share it on Facebook