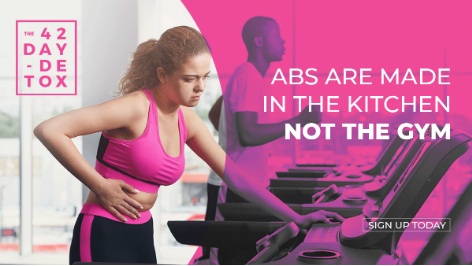 Have you heard about our  NEW 42 Day Detox Transformation Challenge​ that can be done locally or anywhere in the world?

We now have the technology!!!​

Check out this video I made for you: 42 Day Detox Overview Video​

Key points:

– This is currently replacing the 6 week challenge we have been running since October 2017
– The 6 week challenge was beyond successful with 1800+ people who took on the challenge in less than 1.5 years but it was time to introduce something different

– We will be re-launching the new & improved 6 week program in a few months with the new format of the 42 day detox

– The 42 day day detox has the same 3 focus areas: 1. Fitness 2. Nutrition  3. Accountability

– We spent thousands of dollars on a new member portal that will improve the challenge experience and it is loaded with 42 recipes (14 breakfasts, 14 lunches, 14 dinners), videos for all recipes, new approved food list, approved snack list from Thrive Market, smoothie rec, travel/home workout videos, and an accountability area to keep you focused on your goals.

-This a completely different nutrition strategy modeled after the Fodmap diet designed to reduce inflammation. Many foods that were allowed in the 6 week challenge are no longer allowed but many foods that were restricted in the past are now allowed (i.e. rice, quinoa, bananas, carrots).

-The nutrition program was developed by Dr. Trevor Kashey (mastermind behind Prestige Labs). I also added my own tweaks to it and will continue to modify it for the best results.

– Supplementation is recommended but not mandatory

– Every challenger is assigned an accountability coach

-We will start and end with pre & post measurements including the Fit3D

-20 min nutrition consult is also included

– The most important day of this program is Day 43- Re-Introduction Day. We will take 1 new food every 3 days and add it back in for a 3 day period. If you feel worse after intake it is recommended to avoid it for 3 more months or longer. We will continue to do this process so we can find your unique dietary needs.

You can see a video of the Member Portal here: 42 Day Detox Overview Video​​

We filled up the first group and we are going to start 1 more group on Monday. The next group will start in April.

New members who sign up for our year program will get this new 42 day detox challenge for FREE.

​Let me know if you want in on the 3/11 group by replying to this email and please help me spread the word on the new challenge.

RESET YOUR BODY & MIND!

Please share my educational content with your friends and family and help us influence even more Silicon Valley Residents to reach their full potential >> Subscribe

​Your friend & coach,

Brien

Telephone: 650-654-4604

P.S. Remember that I'm only a call or email away to assist you in all things health & fitness. If you are not yet one of my prized clients apply as soon as you can to schedule an interview for our new 42 day challenge starting soon!
APPLY HERE>>> NEW 42 Day Detox Transformation​ Challenge​​​​​​​​