Can you remember how it felt the last time that you ate clean, exercised hard and got adequate sleep for a few consecutive days? A feeling of momentum came over you, didn't it? There was a buzzing in your cells and a rhythm in your pace. You felt alive, you felt sexy, and you felt empowered. Never mind that you weren't yet at your goal number, you were headed there!
Getting down to your goal weight, and fitting into your goal size, is the direct result of living in that state of momentum for an extended period of time. You see, the momentum can be felt immediately, once you start eating clean, exercising hard and taking care of your health, whereas that "goal number" simply can't be felt until it is achieved, and so it's not as powerful a motivator.
My challenge and advice to you is to find the joy of living in the momentum, and keep that momentum going until your goal number is achieved.
Focus only on the momentum, not on the number.
Fitness is a way of life. Being lean is a lifestyle. Neither of which can be had by going about it halfheartedly.
You have to become the momentum.
Call or email me today and we will get your momentum started on the exercise program that will reshape your body once and for all!
Some of Our Recent Transformations…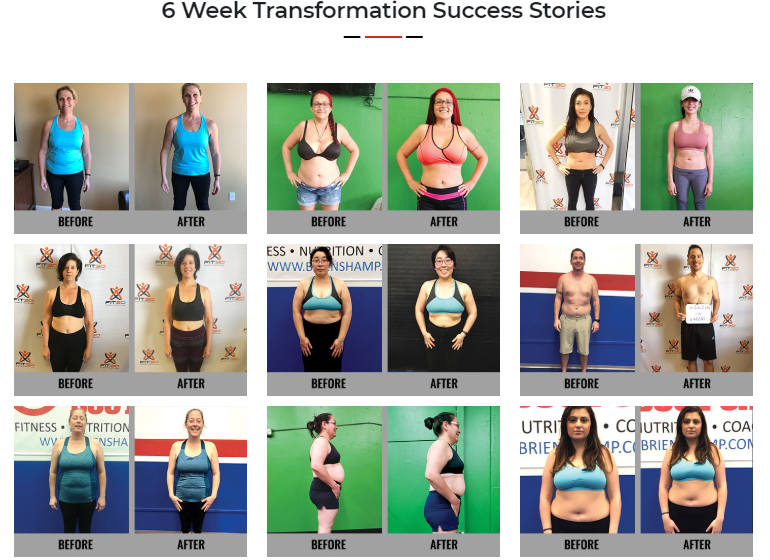 Main Headquarters:

603 Harbor Blvd
Belmont, CA 94002

Ph: 650-654-4604

BRIEN SHAMP

BS, CSCS, CMT, C.H.E.K. NLC II, SGX

Met-Rx "World's Best Personal Trainer", 2000
"Best in the Bay" for Weight Loss by KRON 4, 2009
"Top 10 Personal Trainers" by PFT Magazine, 2011
"Best Boot Camp" by SF A-List, 2014 & 2016
Pay Attention
When you are eating, pay attention.
Sounds simple, but how often do you snack in front of the T.V. or eat your dinner while in rush hour traffic?
Paying attention means eating when you are hungry and stopping when you are full. It means never eating just to eat, but rather because your body needs it.
Do this and you will quickly reach your ideal weight.