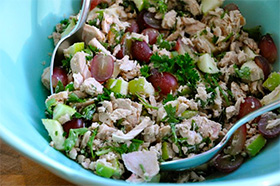 Here's a simple and light version of tuna salad. It cuts out high-calorie mayonnaise and adds some chopped fruit and vegetables to really liven it up.
This is a great recipe to enjoy as you journey towards your fitness goal.
What You Need
Serves 4
1 green apple, chopped
2 green onions, tops only, chopped
¼ cup fresh parsley, chopped
2 cans wild albacore tuna, in drained
1 Tablespoon Dijon mustard
¼ cup coconut oil, melted
¼ cup red grapes, halved
sea salt and pepper to taste
Instructions
1. Mix all of the ingredients in a large bowl and serve immediately. I like to serve this salad in large butter lettuce leaves or scooped onto avocado halves. Enjoy!
Nutrition
One serving equals: 314 calories, 15g fat, 12g carbohydrate, 183mg sodium, 2g fiber, and 33g protein.
More of my recommended recipes can be found here>>> Recipes
We are adding more recipes daily.
I hope that you get a chance to give this recipe a try soon. Remember that I'm only a call or email away to assist you in all things health & fitness. And if you are not yet one of my prized clients apply as soon as you can to schedule an interview for our new 6 week challenge starting soon!
APPLY HERE>>> NEW 42 Day Detox Transformation Challenge ​​​
I'd love to help you achieve your best self!
Please share my educational content with your friends and family and help us influence even more Silicon Valley Residents to reach their full potential >> Subscribe
Your friend & coach,
Brien
Telephone: 650-654-4604