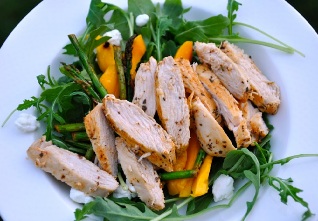 Here's an exciting salad that takes the concept of chicken and veggies to a whole new level! There is so much going on in the flavor department like sweet mango, savory chicken, tender asparagus, tangy arugula, and creamy goat cheese. The herb marinade for the chicken is a total winner – don't be surprised to find yourself using it often!
What you need
Serves 4
For the Herb marinade:
Juice from 1 lemon
1 teaspoon olive oil
1 teaspoon salt
1 teaspoon dried basil
1 teaspoon crushed rosemary
1/2 teaspoon garlic powder
1/2 teaspoon sweet paprika
1/2 teaspoon black pepper
1/2 teaspoon dried thyme
1/4 teaspoon celery seeds
1/4 teaspoon dried parsley
1/8 teaspoon ground cumin
For the Salad:
1 lb skinless, boneless, thin chicken breasts
1 bunch asparagus, ends trimmed and cut into 1 inch pieces
8 cups organic arugula
2 small organic mangoes, peeled and sliced
6 oz crumbled goat cheese (Do not add if cheese is not tolerated)
Instructions
Combine the herb marinade ingredients in a small bowl. Place 1 Tablespoon of the marinade in a large Ziploc bag with the asparagus pieces, and the rest in another large Ziploc bag with the chicken breasts. Make sure the chicken and asparagus are fully coated with the marinade, and then place in the refrigerator for an hour.
Heat a grill pan and another medium pan. Place the chicken breasts on the grill pan, and cook 4 minutes each side, until there is no longer any pink in the middle. Sauté the asparagus in the medium pan, stirring often while the chicken cooks. Remove both pans from heat.
Once the chicken has cooled, slice each breast into even strips.
In a large bowl combine the arugula, mango slices and crumbled goat cheese. Add the cooked asparagus and the chicken. Mix and serve.
Nutrition
332 calories, 13g fat, 740mg sodium, 16g carbohydrate, 4g fiber, and 34g protein
Motivate your friends, family and co-workers! Use the "refer a friend" link below to forward this newsletter to your friends, family, and coworkers.
Please let me know if you have any questions!
Your friend and coach,
Brien Shamp
650-394-8290
​admin@brienshamp.com​​​