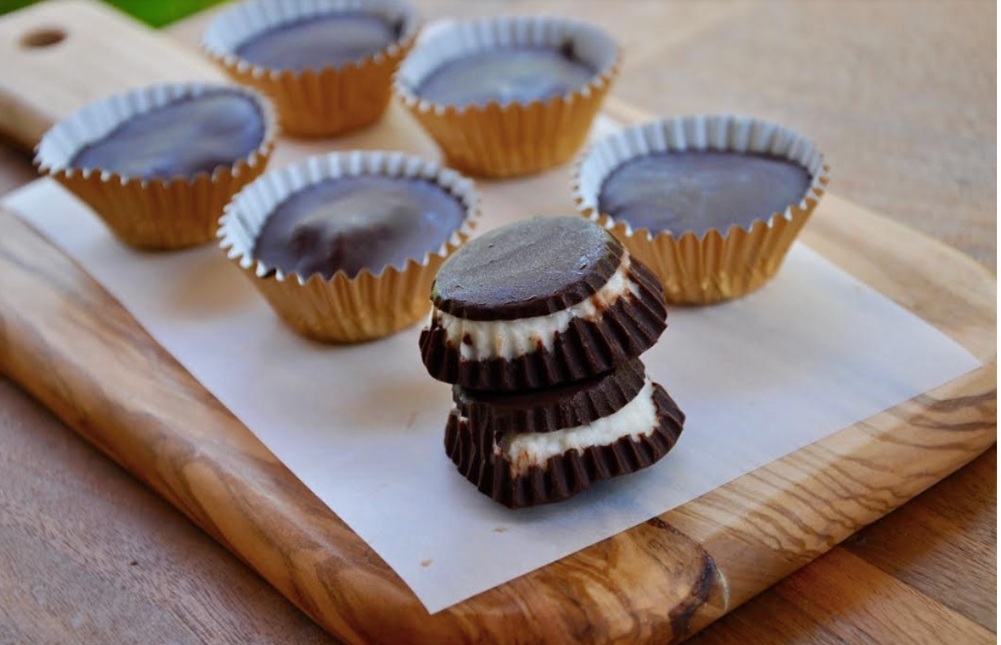 Oh My Goodness! These dark chocolate coconut cups are the perfect recipe for your new sweet tooth obsession! It's super easy to make and tastes like candy without the guilt. Keep you freezer loaded with these tasty treats! Enjoy!
What you need
Serves 15
For the Dark Chocolate:
1 bag lily's chocolate chips (stevia sweetened)
1 teaspoon coconut oil
For the Coconut Filling:
½ cup Unsweetened Coconut Flakes
¼ cup coconut oil
½ teaspoon vanilla extract
⅛ teaspoon sea salt
Liquid Stevia to taste
Instructions
On a rimmed baking sheet that will fit in your freezer, arrange 15 mini cupcake liners.
Place the chocolate and coconut oil in a double boiler over medium heat. Melt, stirring often, until smooth. Remove from heat.
Carefully spoon a teaspoon of melted chocolate into the bottom of each cupcake liner. Place the pan in the freezer for 10 minutes to harden.
Combine the filling ingredients in a food processor. Pulse until creamy and fully combined. Remove the pan from the freezer and place a heaping teaspoon of filling in each liner. Press down to level off the tops.
Drizzle the remaining chocolate over the filling, covering all of the white with chocolate. Place the pan back into the freezer for 10 minutes to harden. Serve and enjoy! Keep leftovers stored in the freezer.
Nutrition
One serving equals 102 calories, 8g fat, 9g carbohydrate, 0g sugar, 16mg sodium, 3g fiber, and 2g protein.
More of my recommended recipes can be found here>>> Recipes
We are adding more recipes daily.
I hope that you get a chance to give this recipe a try soon. Remember that I'm only a call or email away to assist you in all things health & fitness. And if you are not yet one of my prized clients apply as soon as you can to schedule an interview for our new 6 week challenge starting soon!
APPLY HERE>>> NEW 42 Day Detox Transformation Challenge ​​​
I'd love to help you achieve your best self!
Please share my educational content with your friends and family and help us influence even more Silicon Valley Residents to reach their full potential >> Subscribe
Your friend & coach,
Brien
Telephone: 650-654-4604
Share this delicious healthy recipe by forwarding it to your friends and family! Click Here to share it on Facebook