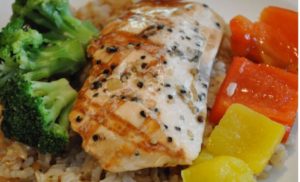 Salmon is filled with healthy omega 3 essential fatty acids, protein, and vitamin B12. This recipe is quick and tastes amazing. Serve it with a side of steamed veggies.
What you need
Serves 4
1 Tablespoon sesame oil
¼ cup lemon juice
¼ cup coconut aminos (or soy sauce)
1 teaspoon ground mustard
1 teaspoon ground ginger
¼ teaspoon garlic powder
4 (6oz) salmon steaks
Instructions
In a large re-sealable plastic bag combine the first six ingredients; mix well.
Set aside 1/2 cup of marinade and refrigerate.
Add salmon to remaining marinade, cover and refrigerate for 1-1/2 hours, turning once. Drain and discard marinade.
Place the salmon on a broiler pan. Broil 3-4 in. from the heat for 5 minutes. Brush with reserved marinade; turn and broil for 5 minutes or until fish flakes easily with a fork. Brush with remaining marinade.
Nutrition
392 calories, 19g fat, 2g carbohydrate, 1g fiber, and 38g protein.
Motivate your friends, family and co-workers! Use the "refer a friend" link below to forward this newsletter to your friends, family, and coworkers.
Please let me know if you have any questions!
Your friend and coach,
Brien Shamp
650-654-4604
​admin@brienshamp-com.wp3.staging-site.io​​​