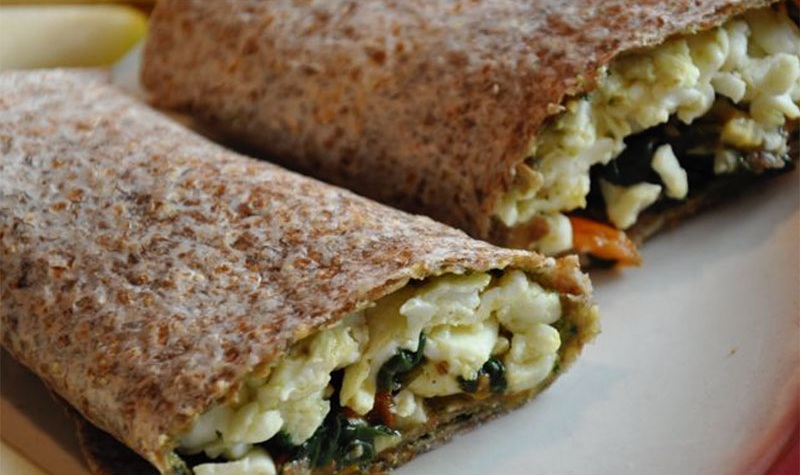 A wholesome breakfast kick-starts your metabolism and helps you to burn more calories throughout the day.
This wrap is delicious for breakfast, lunch or dinner. It's ready in a flash, tastes amazing, and is filled with lean protein, veggies and whole sprouted grains. Try it today, but don't be surprised if you get hooked!
What you need
Serves 2
1 teaspoon olive oil
1 garlic clove, minced
¼ cup tomato, finely chopped
2 cups spinach, roughly chopped
1 cup egg whites
dash of salt and pepper
2 sprouted grain tortillas, paleo wraps, rice tortillas or do a lettuce wrap
2 Tablespoons pesto (purchase it pre-made, or combine ½ cup walnuts, 2 cups basil leaves, 2 cloves garlic, ¼ cup olive oil, and 1 Tablespoon lemon juice in a food processor and blend until it becomes a paste.)
Instructions
Spread a tablespoon of pesto over each tortilla and set aside.
In medium sized skillet warm the olive oil over medium heat. Add the garlic and sauté until golden. Add the tomato and cook for another 3 minutes. Add the spinach and cook until it is soft and wilted. Remove the veggies from skillet, set aside in a bowl.
Pour the egg whites into the skillet, season with salt and pepper. Cook until the egg is no longer runny.
Arrange half of the egg whites in a line down the center of each tortilla. Top with half of the veggies and then fold the ends up and wrap like a burrito.
Nutrition
One serving equals 288 calories, 10g fat, 28g carbohydrate, 6g fiber, and 21g protein.
More of my recommended recipes can be found here>>> Recipes
We are adding more recipes daily.
I hope that you get a chance to give this recipe a try soon. Remember that I'm only a call or email away to assist you in all things health & fitness. And if you are not yet one of my prized clients apply as soon as you can to schedule an interview for our new 6 week challenge starting soon!
APPLY HERE>>> NEW 42 Day Summer Transformation Challenge ​​​
I'd love to help you achieve your best self!
Please share my educational content with your friends and family and help us influence even more Silicon Valley Residents to reach their full potential >> Subscribe
Your friend & coach,
Brien
Telephone: 650-654-4604
Share this delicious healthy recipe by forwarding it to your friends and family! Click Here to share it on Facebook