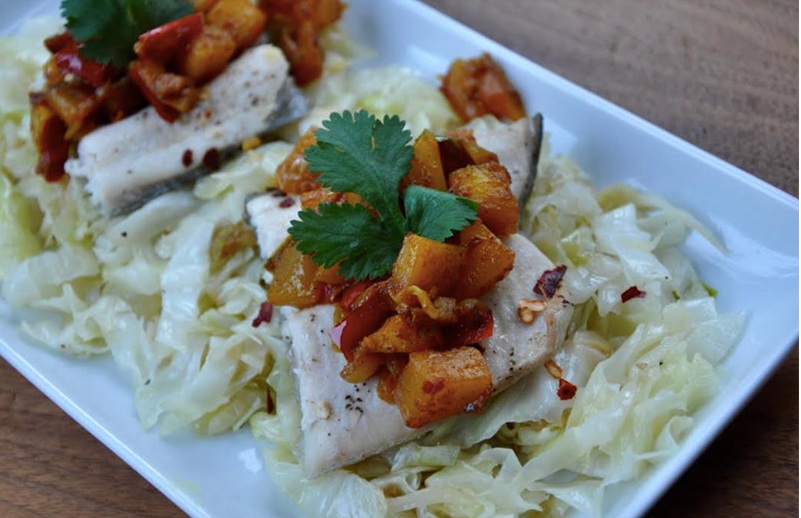 Here's my favorite way to prepare and enjoy fresh trout from the lake! The mango chutney is phenomenal all by itself, with notes of ginger, curry and lime taking center stage. The simple marinade on the trout saturates pleasing flavor into each bite. I knew this one was a winner when my kids ate every bite and then asked for seconds!
Don't limit yourself to just using trout with this recipe. If Mahi Mahi is more readily available to you then go with that.
What you need
Serves 4
For the Rainbow Trout:
1 lemon juice
¼ cup olive oil
½ teaspoon sea salt
½ teaspoon black pepper
dash of Red Pepper Flakes
1 teaspoon Garlic, minced
4 Rainbow Trout Fillets
For the Chutney:
1 tablespoon coconut oil
1 teaspoon Garlic, minced
1 tablespoon Ginger Root, minced
1 small red onion, chopped
1 small red bell pepper, chopped
1 small green bell pepper, chopped
3 ripe Mangoes, chopped (don't worry if your mangoes aren't very ripe — once cooked it tastes much sweeter)
2 lime juices
1 tablespoon Curry Powder
1 teaspoon ground cinnamon
dash of nutmeg
dash of Red Pepper Flakes
For the Sautéed Cabbage:
1 small head Green Cabbage
1 tablespoon coconut oil
dash of sea salt
dash of black pepper
Instructions
For the Trout:
Place all ingredients, except the fish, in a high speed blender. Blend until fully combined.
Combine the marinade with fillets in a large ziplock bag. Place in the fridge for 60 minutes.
Preheat oven to 450 degrees F, if fish is frozen; or 375 degrees F, if fish is thawed.
Grease a pan and place fish fillets on it. For frozen fish, bake for 12-20 minutes, until fish is opaque and flakes easily. For thawed fish, bake for 6 minutes, then flip and bake for additional 6 minutes.
For the Chutney:
In a large skillet, heat coconut oil over medium heat. Add garlic and ginger root and sauté for a minute.
Add the onion and bell peppers and sauté for a few minutes.
Add the mango and spices. Continue to sauté for another 5 minutes, until everything has softened.
Turn the heat down to low and simmer for another 10 minutes.
For the Sautéed Cabbage:
Wash cabbage and discard the first few leaves. Slice it thinly.
Place a large skillet on medium heat. Add the coconut oil, and once that melts, add the cabbage.
Sprinkle with salt and pepper, and cook for 5 minutes, stirring frequently.
To Serve:
Arrange each plate with a bed of cabbage then top with a fillet smothered in chutney. Enjoy!
Nutrition
One serving equals 364 calories, 13g fat, 45g carbohydrate, 38g sugar, 338mg sodium, 6g fiber, and 20g protein.
More of my recommended recipes can be found here>>> Recipes
We are adding more recipes daily.
I hope that you get a chance to give this recipe a try soon. Remember that I'm only a call or email away to assist you in all things health & fitness. And if you are not yet one of my prized clients apply as soon as you can to schedule an interview for our new 6 week challenge starting soon!
APPLY HERE>>> NEW 42 Day Summer Transformation Challenge ​​​
I'd love to help you achieve your best self!
Please share my educational content with your friends and family and help us influence even more Silicon Valley Residents to reach their full potential >> Subscribe
Your friend & coach,
Brien
Telephone: 650-654-4604
Share this delicious healthy recipe by forwarding it to your friends and family! Click Here to share it on Facebook