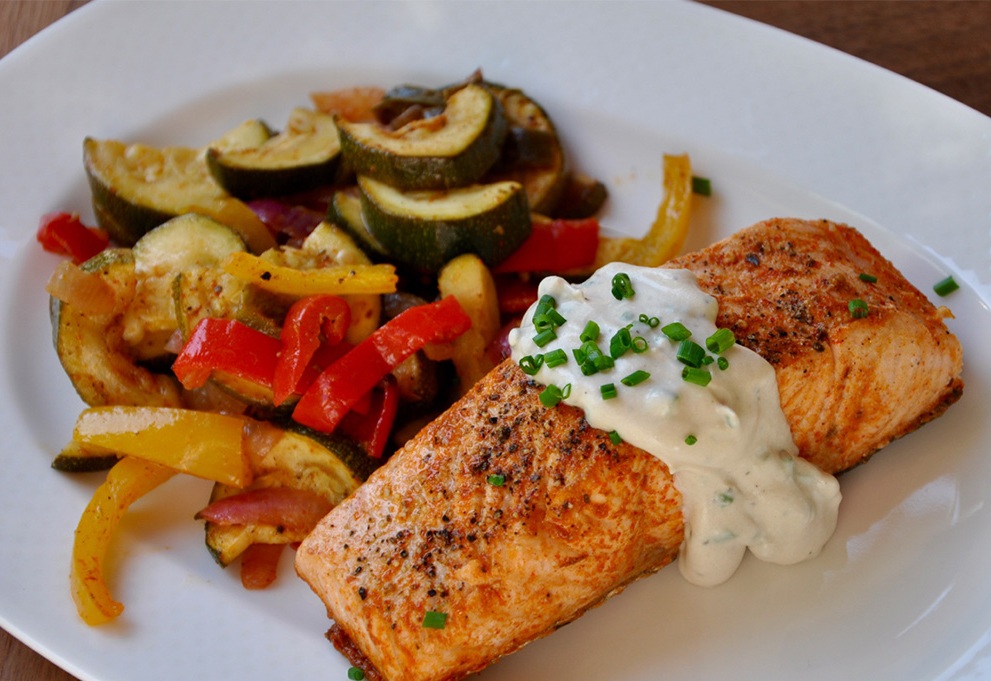 What's for dinner tonight? I have a delicious recipe for Chili-Roasted Salmon and Veggies to share with you that's quick, satisfying and might be just the perfect recipe to cook up for dinner tonight.
The best dinners to fuel your health & fitness results are a combination of fresh, fiber-rich vegetables and quality protein, like this Salmon and Veggie dish. Enjoy!
What you need
Serves 4
¼ cup fresh lime juice
1 teaspoon minced garlic
1 Tablespoon chili powder
1 Tablespoon ground cumin
1 Tablespoon olive oil, divided
4 (5-oz) salmon fillets
2 zucchini, sliced into half moons
1 yellow bell pepper, thinly sliced
1 red bell pepper, thinly sliced
1 poblano pepper, thinly sliced
1 small red onion, thinly sliced
sea salt
black pepper
For the Creamy Mustard Sauce:
2 Tablespoons coconut cream
1 Tablespoon Dijon mustard
1 teaspoon fresh lemon juice
1 Tablespoon fresh chives, minced
1/8 teaspoon sea salt
1/8 teaspoon black pepper
1 teaspoon water
Instructions
Preheat the oven to 425 degrees F. Lightly grease 2 large rimmed baking pans with olive oil. Arrange the salmon fillets on one of the pans and generously season with salt and pepper.
In a small bowl combine the lime juice, garlic, chili powder, cumin and 1 teaspoon of the olive oil. Pour half of the spice mixture over the tops of the salmon fillets.
In a medium bowl toss the zucchini, bell peppers, poblano pepper and red onion with the remaining 2 teaspoons of olive oil and with the remaining spice mixture. Spread the veggies over the remaining pan and generously season with salt and pepper.
Place both pans in the preheated oven for 20-30 minutes, until the salmon is flaky and the veggies are tender. Mix the mustard sauce ingredients in a small bowl and serve over the salmon. Enjoy!
Nutrition
One serving equals 572 calories, 26g fat, 21g carbohydrate, 8g sugar, 30mg sodium, 8g fiber, and 61g protein
More of my recommended recipes can be found here>>> Recipes
We are adding more recipes daily.
I hope that you get a chance to give this recipe a try soon.
Remember that I'm only a call or email away to assist you in all things health & fitness. If you are not yet one of my prized clients apply as soon as you can to schedule an interview for our new High-Performance Training Program (HPT)​ or Hybrid Online Transformation Program (HOT)​ starting soon!
APPLY HERE>>> Brien Shamp's Transformation Coaching Interview​​​
I'd love to help you achieve your best self!
Please share my educational content with your friends and family and help us influence even more Silicon Valley Residents to reach their full potential >> Subscribe
Your friend & coach,
Brien
Telephone: 650-654-4604
Share this delicious healthy recipe by forwarding it to your friends and family! Click Here to share it on Facebook