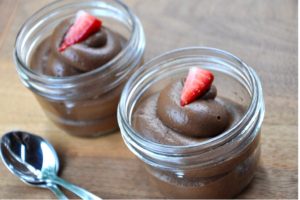 As you work towards your fitness goals, finding desserts that are low in natural sugars will facilitate your results. It will take some time for your taste buds to adjust from enjoying intense, refined sugars to appreciating the subtly and delight of natural, wholesome sugar found in fruit. This pudding is a spectacular way to enjoy creamy chocolate while avoiding refined sugars entirely. The avocado, banana and dates provide real, usable nutrients and vitamins while pleasing your sweet tooth.
What you need
Serves 4
1 avocado, pitted and peeled
1 banana, peeled
1/2 cup coconut milk
1/4 cup unsweetened cocoa powder
3 dates, pitted
1 teaspoon lemon juice
Instructions
Combine all of the ingredients in a high speed blender or food processor. Blend until creamy and smooth. Place in serving bowls and chill for 10 minutes. Serve and enjoy!
Nutrition
228 calories, 17g fat, 16g carbohydrate, 26mg sodium, 7g sugar, 7g fiber, and 4g protein.
Help me spread the fitness truth… If you know any friends, family or co-workers who would enjoy my newsletter give them a subscription by using the 'Refer a Friend' link below!
Please let me know if you have any questions!
Your friend and coach,
Brien Shamp
650-654-4604
​admin@brienshamp.com​​​