Wrapping your dinner in lettuce is an awesome way to burn fat! Trade in your tortillas, buns and sliced bread for a few heads of Romaine lettuce. These tuna wraps are an ultra-healthy meal that is high in protein and low in fat.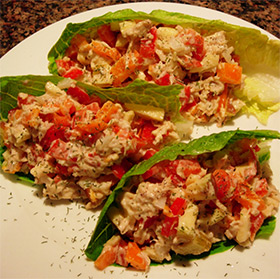 Servings: 2
INGREDIENTS:
1 can albacore chunk wild tuna, packed in water
2 Tablespoons finely chopped white onion
½ red bell pepper, finely chopped
½ yellow bell pepper, finely chopped
½ apple, finely chopped
3 Tablespoons paleo mayonnaise (click link for video recipe)
1 teaspoon dried dill
4 large lettuce leaves, washed
Pepper to taste
DIRECTIONS:
Combine the tuna, onion, bell pepper, and apple in a medium bowl. In a small bowl mix the mayonnaise and dill.
Add the mayonnaise mixture to the tuna and mix until well combined.
Arrange the lettuce leaves on two plates, and fill with tuna. Garnish with a dash of pepper.
Please let me know if you have any questions, and I hope you enjoy this delicious recipe.
Your friend & coach,
Brien
About Brien
Join Brien on Facebook
Write a Google+ Review
Write a Yelp Review: Belmont Boot Camp, Burlingame Boot Camp, San Carlos Boot Camp, Shamp's Studio Boot Camp
Disclaimer