INGREDIENTS: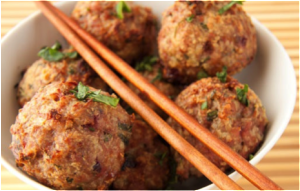 1 lb. lean ground turkey
1/4 cup dried cranberries
1/4 cup egg whites
1/2 cup almond flour
1/4 cup mayonnaise (just Mayo)
1/2 tablespoon apple cider vinegar
1/4 cup fresh basil & thyme or other herbs
1 teaspoon salt
Dash pepper
DIRECTIONS:
Preheat oven to 400F and line a baking sheet with parchment paper.
Place all ingredients in a large bowl and mix with your hands until combined.
Shape into 8 meatballs and place on prepared pan about 1-inch apart.
Bake for 30-35 minutes, until internal temp is 165F.
Remove from the oven and serve. Enjoy!
Your friend & coach,
Brien
About Brien
Join Brien on Facebook
Write a Google+ Review
Write a Yelp Review: Belmont Boot Camp, Burlingame Boot Camp, San Carlos Boot Camp, Shamp's Studio Boot Camp
Disclaimer