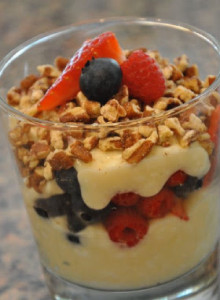 Here's a great recipe to make the night before for an easy grab-n-go breakfast straight out of the fridge. It's packed with protein, healthy fats, vitamins and minerals for sustained energy all morning long. And it tastes great too.
Servings: 1
INGREDIENTS
¼ cup organic Greek Yogurt, plain, whole fat
2 tablespoons of chia seeds
1 scoop of your favorite high quality strawberry or vanilla protein powder
¼ cup fresh berries
1 Tablespoon pecan pieces, toasted
DIRECTIONS
In a small bowl use a whisk to combine the yogurt, chia seeds and protein powder. Mix until well incorporated.
Place half of the yogurt mixture into a clear cup, top with the berries.
Then place the remaining yogurt mixture on top of the berries.
Top with pecans and enjoy!
More of my recommended recipes can be found here>>> Recipes
We are adding more recipes daily.
I hope that you get a chance to give this recipe a try soon. Remember that I'm only a call or email away to assist you in all things health & fitness. And if you are not yet one of my prized clients apply as soon as you can to schedule an interview for our new 6 week challenge starting soon!
APPLY HERE>>> NEW 6-Week Total Body Transformation Challenge
I'd love to help you achieve your best self!
Please share my educational content with your friends and family and help us influence even more Silicon Valley Residents to reach their full potential >> Subscribe
Your friend & coach,
Brien
Telephone: 650-654-4604
Share this delicious healthy recipe by forwarding it to your friends and family! Click Here to share it on Facebook