Fish tacos don't need to be fried. You can use baked Cod and some fresh coleslaw for that fabulous fish taco taste! This meal for two only takes 20 minutes to prepare 🙂
Servings: 2
INGREDIENTS: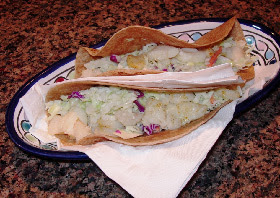 1 pound Fresh Skinless Cod
1 Tablespoon Coconut oil
¼ teaspoon Cumin
⅛ teaspoon Garlic powder
½ cup Whole Fat Plain Yogurt
1 Tablespoon Apple Cider Vinegar
2 Tablespoons Raw Honey
3 cups Shredded Cabbage Mix
4 Organic Tortillas or Lettuce
Lime or Lemon to taste
DIRECTIONS:
Rinse fish and past dry with paper towels.
Cut fish crosswise into ¾ inch slices.
Place fish in single layer in greased shallow baking pan.
Combine coconut oil, cumin, and garlic powder and brush over the fish.
Bake in a 450 degree oven for 4 to 6 minutes or until fish flakes easily when tested with a fork.
Combine the yogurt, vinegar and honey.
Place the cabbage in a medium sized bowl. Combine the yogurt mixture with the cabbage until well blended.
Spoon some of the coleslaw mixture into each tortilla or lettuce wrap; add fish slices. Squeeze fresh lime or lemon to taste. Enjoy!
Nutritional Analysis: One serving equals approx. 327 calories, 5g fat, 40g carbohydrate, and 26g protein.
Your friend & coach,
Brien
About Brien
Join Brien on Facebook
Write a Google+ Review
Write a Yelp Review: Belmont Boot Camp, Burlingame Boot Camp, San Carlos Boot Camp, Shamp's Studio Boot Camp
Disclaimer