This slow cooker pulled pork sandwich recipe by Diana Keuilian is just fabulous! You have got to try it 🙂
COOK TIME:5 hours 30 mins
SERVINGS: 12
INGREDIENTS: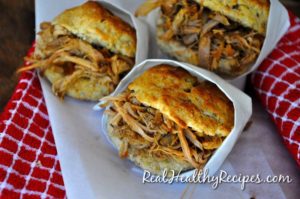 1 tsp. olive oil
1 cup BBQ Sauce + more for serving
1⁄2 cup apple cider vinegar
1 Tbsp. Dijon mustard
1 Tbsp. chili powder
1 large onion, chopped
3 garlic cloves, minced
2 tsp. dried thyme
1⁄2 cup chicken broth
4 lb. pork shoulder roast
Fluffy Egg White Biscuits or large lettuce leaves
DIRECTIONS:
Combine the olive oil, BBQ Sauce, vinegar, Dijon, chili powder, onion, garlic cloves, dried thyme, and chicken broth in a bowl.
Place the shoulder roast in a slow cooker. Cover the roast with the BBQ Sauce mixture.
Cover and cook on high for 5-1/2 hours.
Remove the pork from the slow cooker. Gather a plate and 2 clean forks. Use the forks to shred the tender pork and separate and discard pieces of fat.
Assemble sandwiches with shredded pork and BBQ Sauce. Enjoy!
Check out more healthy and delicious recipes on https://brienshamp.com/recipes
Your friend & coach,
Brien
Try out our Fit Body Boot Camp Afterburn Workout totally FREE with unlimited sessions for 7 days: 1 Week Boot Camp Trial Info
Fit Body Boot Camp is the only 30 minute group personal training program that's fun, affordable, gives you fat loss results and challenges your body every time. Best of all, we guarantee you'll be happy with the results or you get your money back.
The boot camp sessions are approximately 45-50 minutes long. Each session includes a 10-15 minute warm up phase with mobility and core movements to prepare you for the 30 minute metabolic workout, and then it ends with a 5 minute cool down phase.
Telephone: 650-654-4604
About Brien
Join Brien on Facebook
Write a Google+ Review
Write a Yelp Review: Belmont Boot Camp, Burlingame Boot Camp, San Carlos Boot Camp, Shamp's Studio Boot Camp
Disclaimer